Mir Ghazanfar takes oath as the fifth governor of Gilgit-Baltistan, offers prayers at Yadgar-e-Shuhada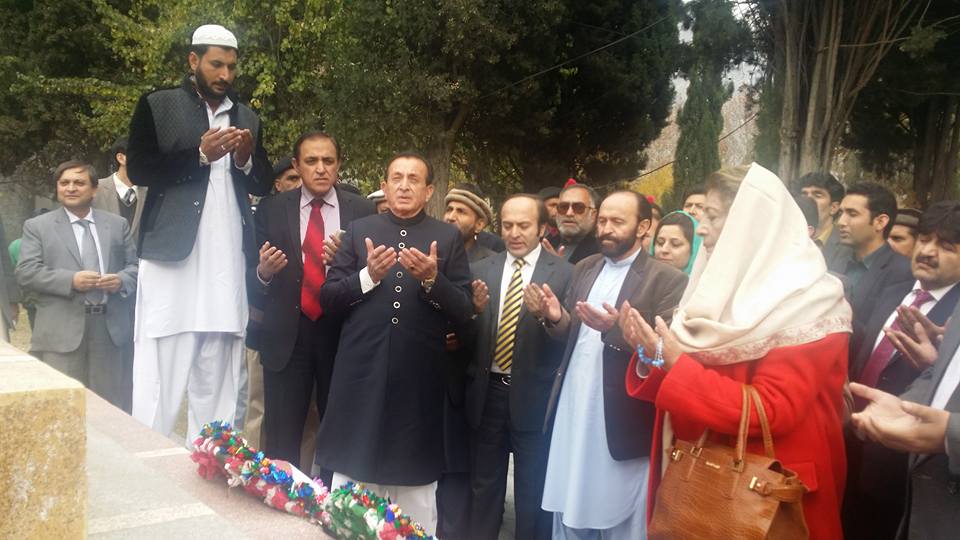 Gilgit: Mir Ghazanfar Ali Khan was sworn in as the fifth Governor of Gilgit-Baltistan at a ceremony attended among others by the Prime Minister of Pakistan today. The PM was able to fly in this morning due to conducive weather conditions. Rana Shamim, the Chief Judge of Supreme Appellate Court administered oath to the newly appointed governor.
Speaking at the occasion, PM Nawaz Sharif said that his government is determined to develop Gilgit-Baltistan and strengthen democracy in the region. He also said that 50 billion rupees have been allocated for the construction of Skardu-Gilgit road. He also distributed cheques among some people affected by the recent earthquake.
The Gilgit city was sealed ahead of the Prime Minister's visit as part of security measures. Local journalists were barred from covering the oath-taking ceremony held in the historic Chinar Bagh, where the GBLA building and the monument of martyrs is located.
The newly sworn governor later went to the monument of martyrs, offered prayers and paid homage to the martyrs and the freedom fighters who liberated the region from the Dogra occupiers in 1948.