'No Change in Islamabad's Policy Regarding Gilgit Baltistan,' Pak Envoy tells Mirwaiz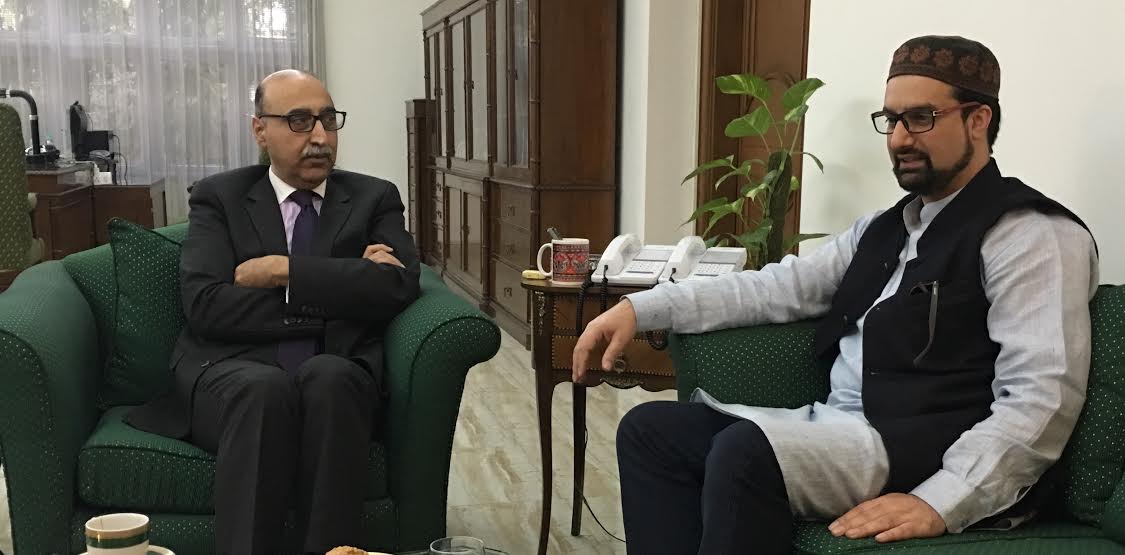 SRINAGAR: In an hour long meeting with the Pakistan High Commissioner in India, All Parties Hurriyat Conference (m) Chairperson, Mirwaiz Umar Farooq while terming the efforts of the government of Pakistan for a just and permanent solution of Kashmir issue encouraging said that a just solution of vexed Kashmir issue could end tensions in the subcontinent and secure the future of over a billion people of South Asia besides bringing stability and economic prosperity to the region.
In his meeting with the Pakistan Envoy Abdul Basit in New Delhi on Monday, Mirwaiz expressed gratitude to the Government of Pakistan for putting in strenuous efforts for resolving Kashmir issue.
Mirwaiz, during his meeting with Basit, delved on the importance of the resolution of Kashmir issue, India and Pakistan Foreign Secretary-level talks, political situation in Jammu Kashmir, Human Rights violations in Kashmir, and a number of other issues connected with Kashmir, a statement issued by Hurriyat Conference (m) said this evening.
Welcoming the initiative of the resumption of dialogue process by Pakistan Prime Minister Mian Nawaz Sharief and Indian Prime Minister Narendra Modi in their recent meetings, the APHC-m Chairperson expressed hope that both countries would take concrete steps towards resolving all their pending issue including the vexed issue of Kashmir during their upcoming Foreign Secretary-level talks.
During the meeting, Mirwaiz stressed that it is time that both countries take meaningful and bold confidence building measures viz-a-viz Kashmir in their Foreign Secretary-level talks which could help create a conducive atmosphere on the ground.
Expressing satisfaction over the Pakistan's Kashmir policy Mirwaiz said, "Islamabad's stand of inclusion of Kashmir issue in the dialogue process was satisfactory and expressed hope that Pakistan will continue its political, diplomatic and moral support to the people of Kashmir in their just struggle."
Stressing that Kashmiri people have been suffering worst kind of atrocities for the past seven decades, he said the huge sacrifices of the people of Kashmir demand that the issue be resolved in accordance with the will and aspirations of the people.
In the meeting, the Pakistan Envoy Abdul Basit assured Mirwaiz that the resolution of Kashmir issue in accordance to the wishes and aspirations of Kashmir people is the established policy of Pakistan.
"He assured Mirwaiz that there was no change in the policy of Islamabad relating Jammu Kashmir including Kashmir, Jammu, Ladakh, Azad Kashmir and Gilgit Baltistan," the statement added.
Courtesy: Kashmir Life