Governor Mir Ghazanfar calls on Federal Finance Minister to discuss GB's economic issues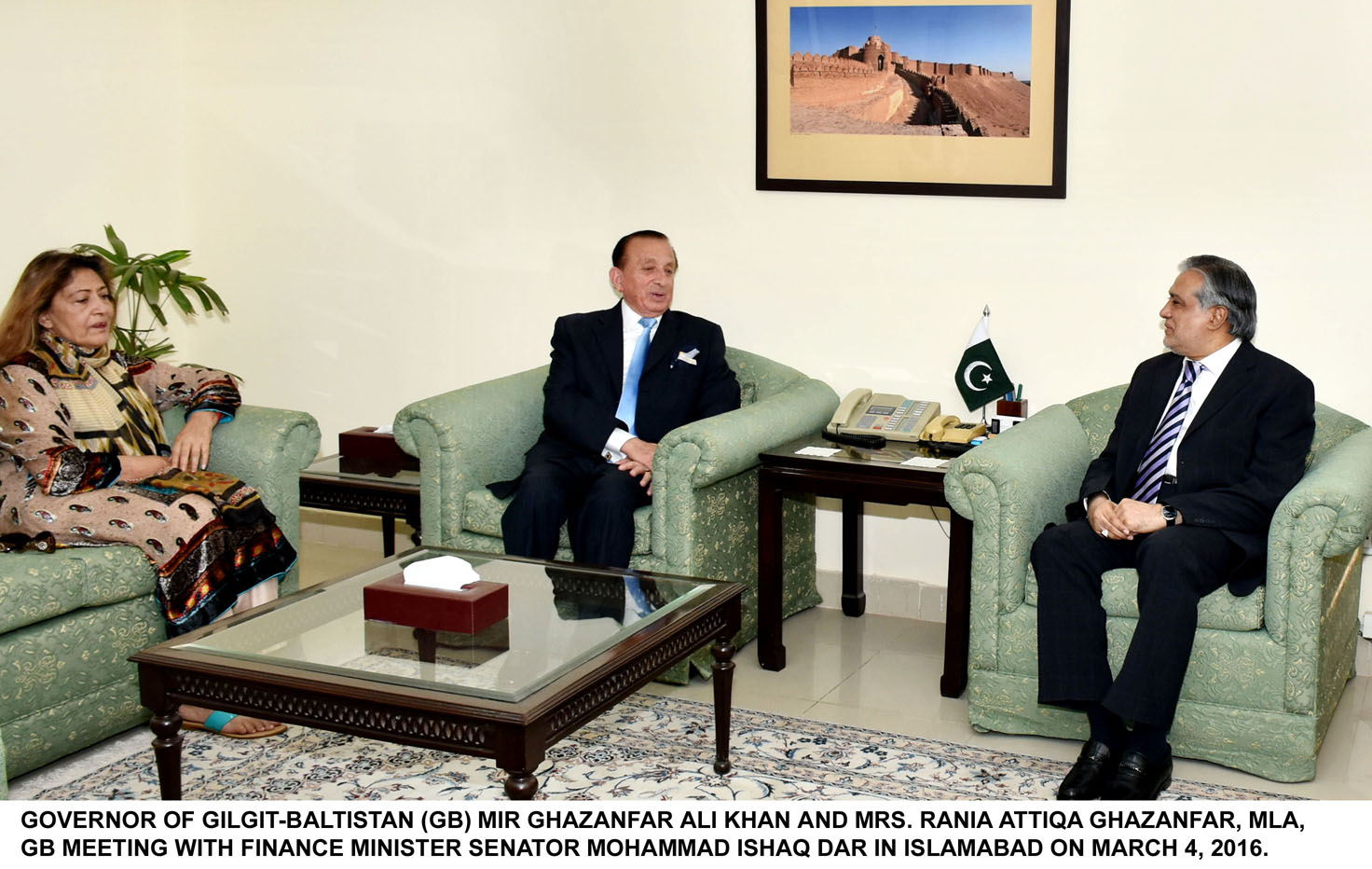 Islamabad: Finance Minister, Senator Mohammad Ishaq Dar here on Friday held a meeting with the Governor of Gilgit–Baltistan(GB) Mir Ghazanfar Ali Khan who was accompanied by Mrs.  Rania Attiqa Ghazanfar, MLA, GB on the occasion.
The Governor apprised the Finance Minister about the economic profile of GB and briefed him about some problems being faced by people of the area, especially in the wake of the Attabad lake disaster. He said this sad incident badly affected tourism which was the main attraction in the area and major source of income for the people. He emphasized smooth supply of electricity, facilitation to the local hoteling industry and increasing the number of PIA flights to GB during the peak tourist season to revive tourism to the optimum level.
Governor GB especially requested support of the federal government for implementation of small  power projects to cater for energy requirements of GB. Mir Ghazanfar Ali added that people of GB highly valued and appreciated the attention that the PML-N government has accorded  them and hoped they would receive continued support and assistance from it for solving their problems.
Minister Dar said the Prime Minister Mohammad Nawaz Sharif attached due importance to development of GB. He said all possible cooperation would be extended to GB for its economic development and welfare of its people. He said undoubtedly GB has great tourism potential which should be fully exploited for good of the people.
The Minister on this occasion also mentioned about the Diamer Basha Dam project which he said would greatly benefit GB in terms of economic development.