Justice: 8-year old 'absconder' acquitted by ATC, Investigation Officer handcuffed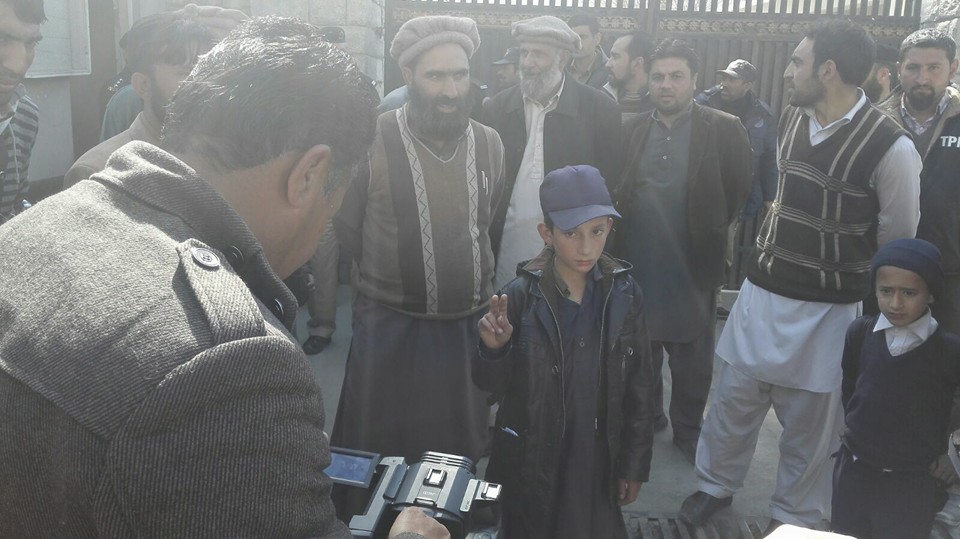 Gilgit: Judge Shahbaz Khan of Anti-Terrorism Court Gilgit-Baltistan acquitted 8 year old Zuhaib, a grade 4 student belonging to Phugach Village of Darel Valley, who had been booked under the Anti-Terrorism Act after last year's GBLA election. He was recently declared an 'absconder' in newspaper adverts, along with 7 other belonging to the Pakistan Tehreek-e-Insaaf.
Judge Shahbaz Khan expressed shock at the incident, and ordered handcuffing of the Investigation Officer DSP Raji Rehmat for 'misleading the court' and making it declare the innocent child an absconder wanted under ATA laws, 'by submitting a fake written testimony.'
The ATC administrative Judge directed the IG of Police to launch an internal inquiry against the police official who had registered a case against the child, and 'misled' the court.
The child's father accompanied him during the court hearing.
WATCH report by Abdul Rehman Bukhari and Cameraman Munawar Hussain Nagri
8-year old 'absconder' acquitted, DSP handcuffedJudge Shahbaz Khan of Anti-Terrorism Court Gilgit-Baltistan acquitted 8 year old Zuhaib, a grade 4 student belonging to Phugach Village of Darel Valley, who had been booked under the Anti-Terrorism Act after last year's GBLA election. He was recently declared an 'absconder' in newspaper adverts, along with 7 other belonging to the Pakistan Tehreek-e-Insaaf. Judge Shahbaz Khan expressed shock at the incident, and ordered handcuffing of the Investigation Officer DSP Raji Rehmat for 'misleading the court' and making it declare the innocent child an absconder wanted under ATA laws. The ATC administrative Judge directed the IG of Police to launch an internal inquiry against the police official who had registered a case against the child, and 'misled' the court. The child's father accompanied him during the court hearing. Special report by Abdul Rehman Bukhari and Cameraman Munawar Hussain Nagri

Posted by PAMIR TIMES on Friday, 4 March 2016