Islamabad sets up 10-member committee to review legal status of GB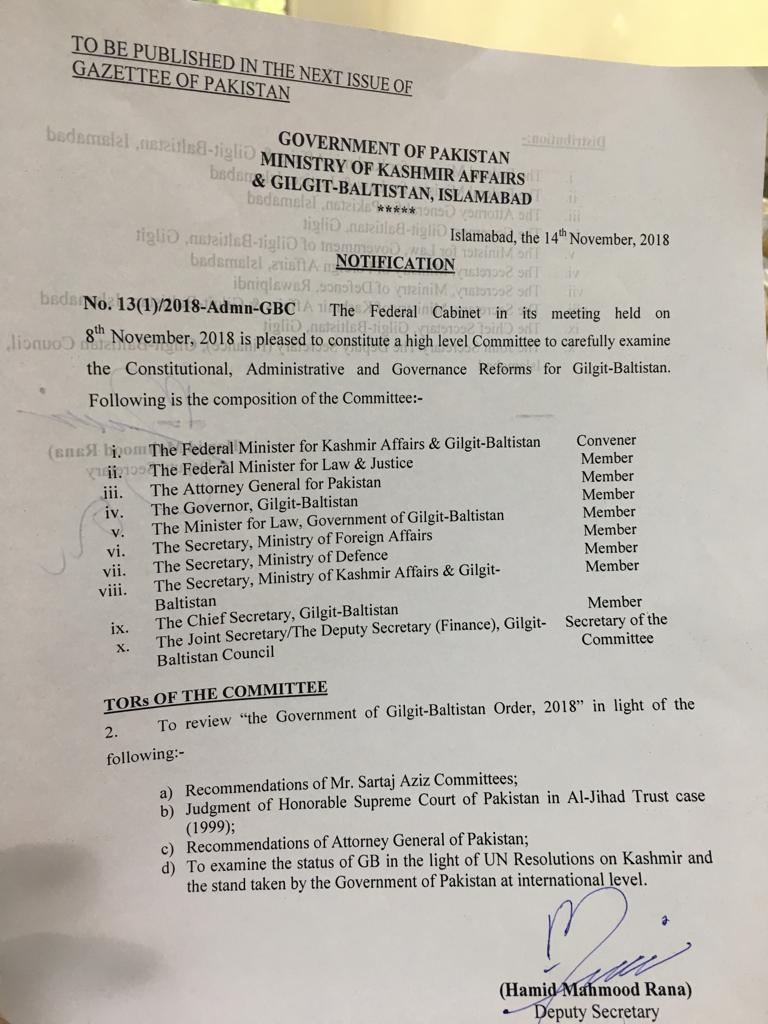 Islamabad: The federal Cabinet has formed a high-level committee to examine the constitutional, administrative, and governance reforms of Gilgit-Baltistan following the direction of the Supreme Court of Pakistan.
A seven-judge larger bench had taken up 32 cases concerning the region's constitutional status. The main constitutional petition was filed by the GB Bar Council through its vice-chairman Javed Ahmed.
The bench, headed by Chief Justice Mian Saqib Nisar, had directed the federal government to review the Gilgit-Baltistan Order 2018.
Following the directives of the Supreme Court, the federal cabinet constituted the committee to review the legal status of GB.
The Federal Minister for Kashmir Affairs and Gilgit-Baltistan will head the newly formed committee. Other members will include the federal Minister for Law and Justice, Attorney General of Pakistan, Secretary Ministry of Foreign Affairs, Secretary Ministry of Defense, Secretary Ministry of Kashmir Affairs and Gilgit-Baltistan and Joint Secretary / Deputy Secretary (Finance), Gilgit-Baltistan Council. Governor Gilgit-Baltistan and Minister for Law, Government of Gilgit-Baltistan and Chief Secretary Gilgit-Baltistan will represent Gilgit-Baltistan in the committee.
According to the notification, issued on 14th November 2018, the committee will review "the Government of Gilgit-Baltistan Order, 2018" in light of the recommendations of Mr. Sartaj Aziz Commission and the judgment of Honorable Supreme Court of Pakistan in Al-Jihad Trust case (1999) and recommendations of Attorney General of Pakistan. The` committee will also examine the status of GB in the light of UN Resolutions on Kashmir and the stand taken by the Government of Pakistan at international level.
The Supreme Court bench has directed the committee to reach a decision regarding the matter within 15 days.
According to media reports the Chief Justice has expressed concern that formation of the committee means that the government wants to send the matter into "cold storage".
The hearing of the case was adjourned until December 4.