Reverse Gear: Dragging Hunza back to the darker times with indiscrimate cultral restoration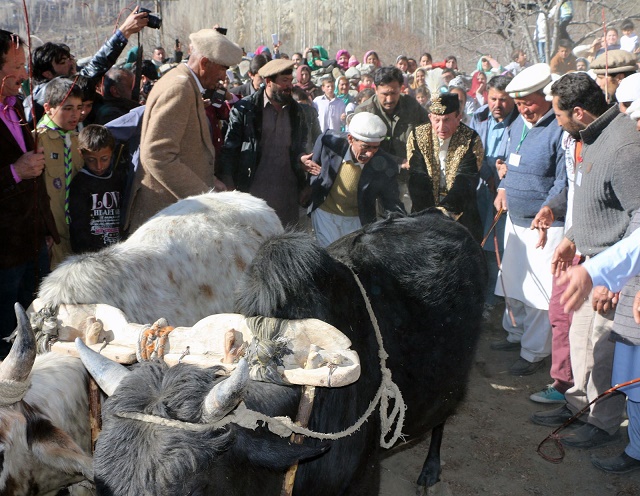 Roshan Bano 
Darker times of Hunza were not too distant ! just as recent as  1970s and  before. The worst thing about Darker Times of  Hunza was that Darkness ruled not just one or only few aspects of Hunza society, but each and every aspect was wrapped in DARKNESS !
Deprived of education, Hunza Society  was in darkness intellectually, economically,technologically,religiously, politically; just name any aspect the list is endless.
Politically Hunza was a Principality ruled by a hereditary dynastic monarch.The ruler was called Tham. Let's call that system Thamship/Thamdom. (Mir for ruler  and Mirdom for the system are used as alternative by so many others). Only Tham and  his dear and near ones had access to education,  freedom of movement/traveling out of Hunza , and so many other special privileges. Every case was headed by Tham, who was also the self-appointed judge; his decision was final and ultimate in every matter. Every ceremony/celebration/festival used to be inaugurated by Tham !
Bofao, a festival to celebrate spring season sowing, like other festivals, used to be inaugurated by Tham in the village where his Palace was located.  only then could the spring sowing start  all over the Hunza – Kilik to Mayon.
Thamship in Hunza ended in 1974. With its dissolution all the authority associated with Thamship automatically ended !
This year Bofoa festival was celebrated after a gap of 54 years as part of a cultural restoration programme in Hunza. The  arrangements were made by few local/national NGOs working in Hunza. Mr.Ghazanfar Ali Khan, son of last Tham of Hunza Principality, was invited to preside and inaugurate the event. Mr. Ghazanfar mounted on a horse , clad in dress/ attire  worn by Thams when Hunza was a principality (till 1974) and inaugurated the ceremony. Mr.Ghazanfar and the community members performed all the formalities/activities traditionally as used to be performed in past. Everyone was filled with spirit of celebrations!
The event got vast media coverage,  huge applause, utmost appreciation. The event was termed as  step towards cultural restoration , cultural preservation, cultural glorification etc…. all the sweet terms irrespective of their relevance.
 The QUESTION is:
What do you want? Which aspect of your culture is  revived or restored? Tham system, hereditary  dynastic monarch , absolute authority  entailed in Tham System and many more other ignorant things of Tham System?
Why don't you start reintroducing Darbars/ Maraka to solve every social problem, custom of Zengaoin, Osham , Jerpa, Bap too  in the name of cultural restoration?
Come On !
Either you have misunderstood cultural restoration or you have distorted it for your own marketing, profiteering. Whatsoever be the reason, stop misusing,  infact abusing,  concept of cultural restoration!
Cultural restoration  does not mean  indiscriminately and uncritically  preservation of every aspect of culture . Blind restoration of culture is nothing short of ignorance. It is a disastrous act and attitude.
Cultural restoration is all about innovative restoration of  cultural heritage, traditions, customs that involve analysis and modification to make the culture applicable to fulfill needs of the community members for their progress and development.
Take inspiration from AKTC (Aga Khan Trust for Culture), which has set examples of cultural restoration and preservation-Khapulu Fort, Shigar Fort, Ganish settlement etc. Look at Altit Fort and Baltit Fort. AKTC has inventively restored the forts. Now they are thriving tourist destination, laden with reference libraries, museums, spots for musical concerts. In name of cultural restoration AKTC does not  amke offspring of Thams sit on Takht, arrange Maraka, as was used to be  done in those forts when  Hunza was principality.
Other organization and institutions too are supposed to be highly  cautious and sensitive while  arranging and mobilizing community about restoration of any of cultural aspect. Because this is something with  community wide  and  generational impact.  One must ensure positive impact !
Yes, if you want to show  young generation about how their ancestors  lived, then you can arrange for mock displays and demonstrations instead of actually reliving the ignorant traditional customs based on class systems!
Indiscriminate restoration of cultural heritage  will  definitely make Hunza prison of the old traditions.