Women Empowerment through Early Childhood Development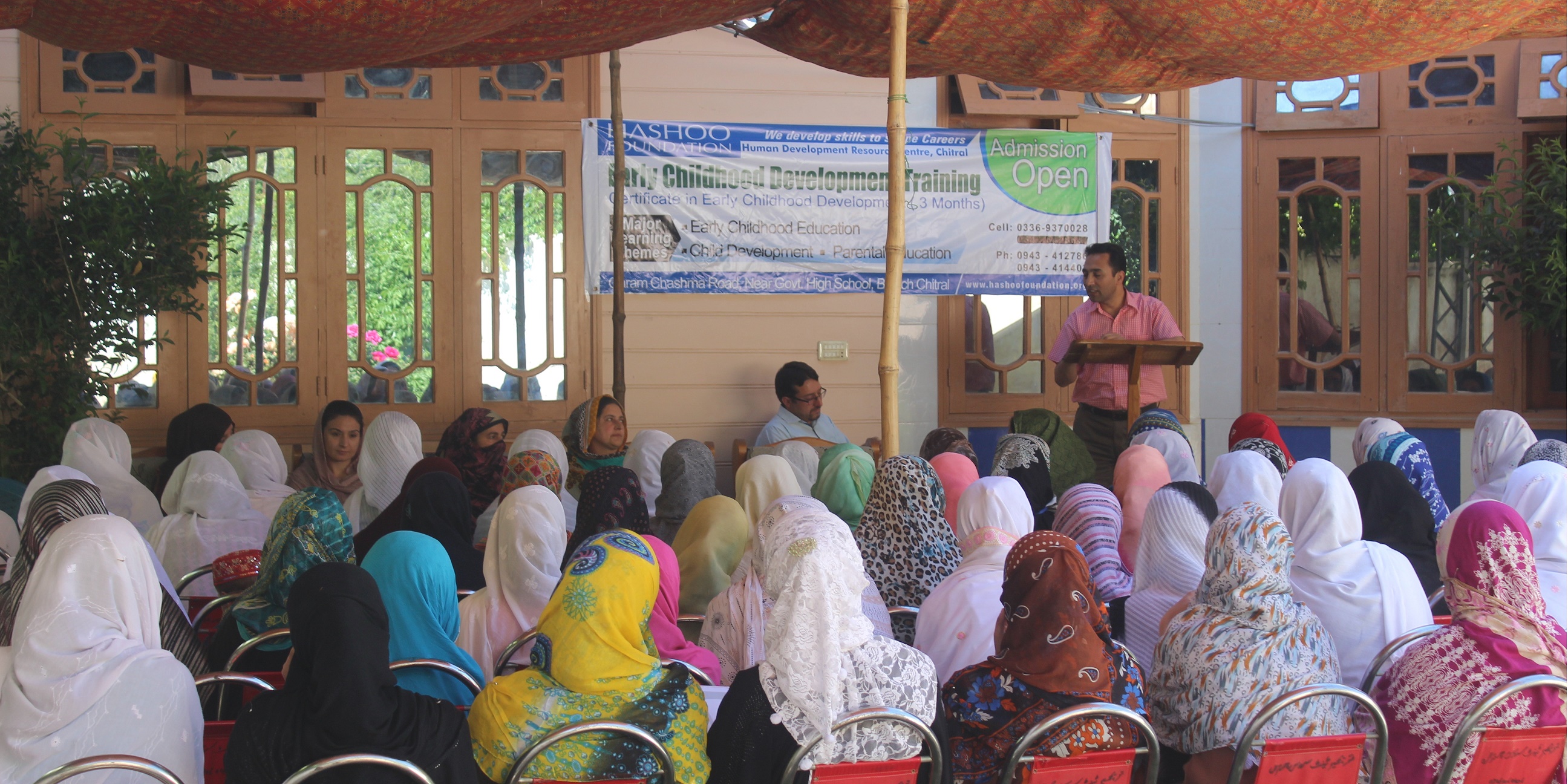 Gilgit: Access of a child to early childhood education provides positive learning opportunities, to develop and hone their skills in comprehending the contemporary learning challenges in school. To facilitate this development, a woman as a mother, teacher and a caretaker, plays a phenomenal role. Thus, over the past decade Hashoo Foundation, through its Rawalpindi and Gilgit office, has built an enviable track record in training young women in ECD. Most of the graduating young women have successfully secured employment in local schools whilst, some have established home-based pre-school facilities in their localities. Based on this success and to address the dearth of such practitioners in Chitral, the Foundation is expanding its ECD program there from May 2016
During the inauguration ceremony of the ECD Training Program on May 17, 2016, Ms. Ghazala Anjum, Subdivision Education Officer, District Chitral briefed the participants about the potential scope and new openings of ECD in education department and primary schools District Chitral. She also elaborated the role of women in early childhood development. She highly appreciated this initiative of Hashoo Foundation and assured her full support for the expansion of this program in Chitral. Representatives from local education institutions and schools also participated in the event.
Learning begins from the day when a child gets conceived in mother's womb and neuroscience has also proved the early years of life as very important for learning and balanced life of human being. The objective of this initiative is to build the capacities of women in the field of early childhood development and enrich their professional competencies for socio-economic empowerment through multi learning program.
HF has introduced new components to this program, including; Model Reading and Literary Clubs where activities such as storytelling, sessions with parents and grandparents would be conducted, Entrepreneur Development, which would identify potential trainees who would be provided with grant/loan from HF in order to set up their own centers, Nursery Laboratories which would boost up the practical comprehensions of the ECD trainees and Life Skill Training for Adolescents in which self-protection, self-hygiene, career counselling would be discussed.
Quality education at early age has proven to be very influential for the later development of a child, thus bringing positive change to the future of our nation.