Chinese citizen arrested from Khunjerab, arms and ammunition recovered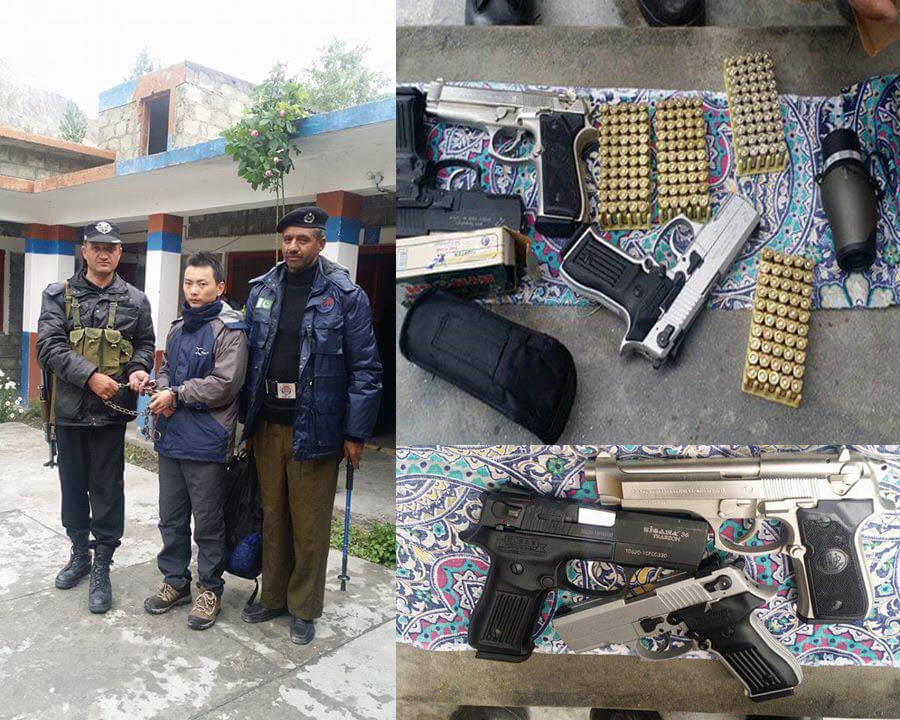 Hunza: A Chinese citizen named Wang Jiangquo has been arrested on Tuesday from the Khunjerab National Park area of District Hunza. A case has been registered against him under the ant-terrorism laws, and he has been shifted to Giglit for further investigation, said a police official.
According to details, Wang reached Islamabad from China after getting a one-month visa. He then traveled by bus to Aliabad Hunza, from where he reached Sost. In Sost he hired a taxi and went to the Khunjerab National Park. The taxi driver has told the police that Wang took some photographs and asked him to slowly move forward in the car, while he took photographs.
When the Chinese citizen didn't come back, the taxi driver got worried and informed the Khunjerab Security Force (KSF) officials stationed at a check-post nearby. The KSF officials along with policemen combed the area, and found the man near a glacier. He was carrying a bag. On searching the bag the police officials, reportedly, found 3 pistols, 200 bullets, a map, campus and binoculars. Wang was arrested by the police and shifted to Sost town, where a case was registered against him under ATA laws. He was later shifted to Gilgit for further investigation, said a police official requesting anonymity.
The motives of the apprehended man are unclear, said the official. He may have been trying to smuggle the weapons to China, he further said, adding that more details will come only after the investigation has been completed.
It is pertinent to note that the China-Pakistan border in the Khunjerab National Park area is mostly unguarded, except for a few check-posts established on the KKH. The border is demarcated by barbed wires at some places.