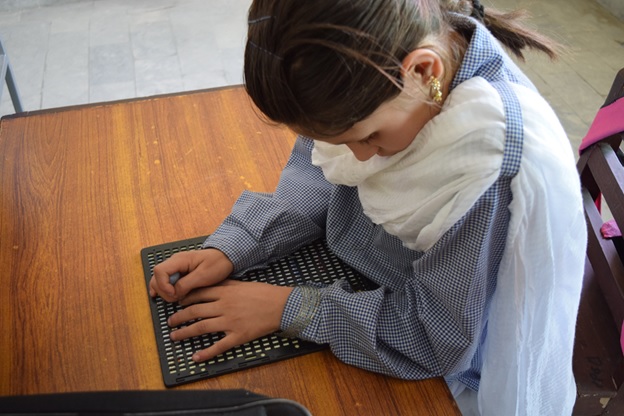 Hira Ali
I write this letter today with a very heavy heart, once finding out about an issue, taking place in Gilgit-Baltistan. I currently reside here in the United States, but I had the opportunity to visit the beautiful Gilgit city last year. While taking a tour of the Karakoram International University I discovered about a special needs education center, located next door. I was very impressed to see such a nice facility that was bringing out such awareness to young kids with disabilities; which the society often neglects. I got to speak with these kids, who were busy reading braille or others who showed me how to bead together bracelets. At least 135 are currently enrolled while the waiting list gets longer and longer, because the other hostel building is taken over by the NAB (National Accountability Bureau). I loved how hands on these teachers were with students, and effort they took to make difference.
I came to know that the local leader Hafizur-Rehman plans to build a medical college in Gilgit. He already has made press releases with his plan.  I say that's a wonderful idea, yes promote education I'm all for it, but why remove special education children from their school in which they feel the most safe in? This is what makes these special kids actually feel normal, where you have a society which disregards and pushes them away. Why not build a brand new school for a medical college? Would removing kids from their school, to build more doctors not say something about the society? I feel that is absolutely unjust and the kids have the right to pursue their education right where it resides. There is no need to send them or relocate them somewhere, to send the message, "you are not good enough." How will Pakistan progress if this is the ideology we strive for? Not only this, a recent budget proposal was cut for this special needs school to bring more equipment and to further their education to metric level, but wasn't approved. As of now classes go up to 5th grade.
The building was built by the Federal government specifically for this purpose with the help of Wafaq, but since it has been passed to the provincial government it has been overlooked. I write to you in the hopes that some way, you can be the light in my tunnel, or help me with the approach that I should take. I feel very helpless being thousands miles away and wish I could do more. The people that are suffering don't have a voice and I'm afraid they will be shut down. I encourage you to take some action because these special needs children have human rights just like you and I. We cannot tell them they are not good enough, and remove them from their safe haven which teaches those skills to be independent and a chance to make a difference in a society; which sadly neglects them.
Please feel free to contact me at this email (hira_ali_1@yahoo.com) and I hope to hear from you soon. Thank you for taking a moment to read this, I really appreciate it. I just want to be their voice reaching to you. The school also plans on having a protest soon on June 28th outside the CM's place in Chinar Bagh. Attached are some pictures I took of the kids.