Showing civic responsibility and promoting eco-friendly tourism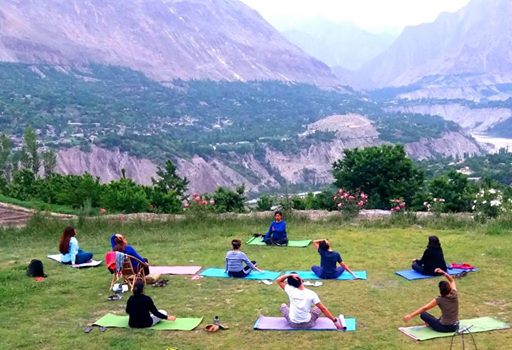 Nasir Saeed Sakhi
Travelling is one of life's ultimate experiences which offer new avenues of exploration and interaction with new cultures other than our own, and also brings tremendous benefits to service activities like: transportation, communication, hospitality, catering, entertainment, and advertising. No wonder, travelling is the best use of vacations and gives a delightful overview of the natural wealth of a region. The mountain regions of Pakistan especially Naran, Kaghan, Babusar, and Gilgit-Baltistan and Chitral, top the list of most beautiful and pleasant locations of the country; famous for their serene beauty and enchanting sights.
A few years back, these areas were not so well-known among the local and domestic sight-seers but with the improvement in infrastructure and an encouraging representation on social as well as electronic media in recent years, these places have been drawing domestic tourists in unprecedented numbers.     Every summer there is a massive rush of travelers going to these areas to escape the sweltering heat and humidity of the southern parts of the country and to enjoy the pleasant weather and welcoming culture offered by these regions. These destinations have become, in the true sense of the word, a magnet for tourists' especially the local populace.
According to GB Tourism Department, more than 0.2million domestic tourists visited Gilgit-Baltistan in the summer of 2015 alone, via KKH, crossing through Naran-Kaghan and Babusar Pass. As predicted, the numbers exceeded last year's record in 2016 and people are still visiting these areas. As much as this trend has benefitted the local tourism industry, the heavy influx of people has put tremendous ecological and environmental pressure on these previously secluded and preserved areas. Tourists have been observed excessively littering and strewing garbage alongside rivers and picnic spots, including Shandur, Lake Saif-ul-Muluk and Protected Areas like Deosai and Khunjerav. If this practice goes unnoticed and ignored, it will eventually have an adverse effect on the eco-system and biodiversity of the region, to the point of no return and remedy. Recently, photos on social media depicting this recklessness and irresponsibility of local tourists have been circulating, which is a great cause of concern to the local inhabitants of these areas as well as environmentalists.
Moreover, government sponsored activities such as Shandur Polo Festival and the soon to be held Deosai Festival can also leave serious ecological and environmental bearing on these fragile eco-systems. If the Tourism Departments of Gilgit-Baltistan (GB) and Khyber Pakhtoonkhwa (KB) together can arrange Shundur Polo Festival, they can also sit together with relevant stakeholders and find a practical solution to this important issue. With the rise of community based tourism concept in GB, the approach for harnessing eco and ethical tourism has become more important for the sustainability of future tourism industry.
The local Government needs to adopt policies to promote eco-friendly tourism by meeting the needs of the present generation without compromising the needs of the future generations. The Government can start with two simple steps: (i) putting environment friendly signage; and (ii) placing garbage bins in picnic spots and crowd drawing areas, for a proper and disciplined waste management system. The community members need to compel and support the authorities in making these measures work and to halt this dangerously increasing environmental threat. It is therefore, the responsibility of both the Government and the general public to raise maximum awareness and encourage public private partnership to foster economic growth while mitigating the adverse environmental impact.
——–
The contributor is a development practitioner and environmental activist. He can be reached at nasir.sakhi@gmail.com