Rawalpindi: Youth leaders from Gilgit-Baltistan and Chitral discuss issues, deliberate on possible solutions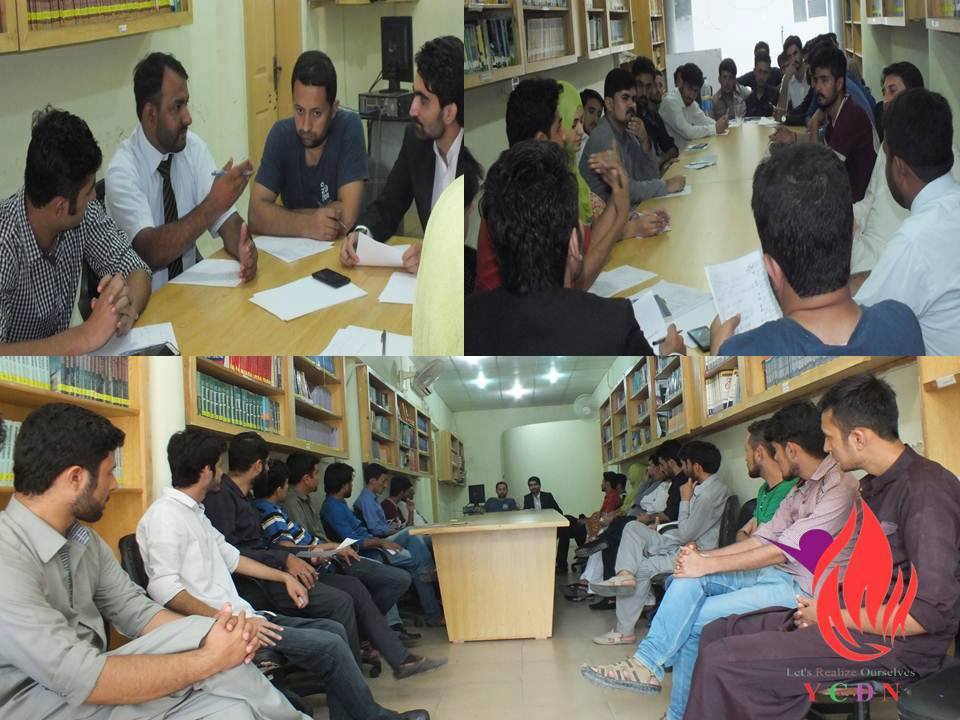 Rawalpindi: Youth Counselling & Development Network, on Sunday organized "Dialogue on Gilgit Baltistan Youth Policy and Career Guidance" at Superior College/University Campus, Rawalpindi. To find solutions to region's contemporary issues,YCDN invited all the eminent youth activists and organizations working actively in Gilgit Baltistan and Chitral. The primary objective of the event was "Collaboration among all Youth Organizations for Career Guidance of GBC Students" along with the following secondary objectives;
1. To discuss Gilgit Baltistan Youth Policy.
2. To Understand regional issues and their solutions.
3. To find grounds of cooperation among all GBC Youth & Student Organizations.
4. To develop a mechanism to ensure maximum facilitation of GBC Students for Admissions in Institutions of all cities especially Rawalpindi and Islamabad.
GBC Youth Leaders suggested the following recommendations for true youth empowerment in the region:
1. A 1000 bed hostel in sector H-8 of Federal Capital was allotted for residence of AJK, FATA and Gilgit Baltistani students but it is now running by Pakistan Bait-ul-Mall. The government should ensure safe and healthy accommodation as promised to youth.
2. There must be some Institutional mechanism for channelizing youth of Gilgit Baltistan.
3. Youth should be facilitated with auditoriums and play grounds to utilize their energy in a positive way.
4. Youth should be given right to take part in policy making for the region.
5. Women empowerment and education should be given priority to ensure gender equality and maximum development of the region.
6. There must be a mechanism to ensure quality education in all public schools especially in the areas like Diamer, Chilas and Dariel.
7. Rising suicide cases in the region should be taken seriously and necessary steps like parents counseling and healthy activities should be introduced to cope with all the reasons including the matter of frustration.
8. The government should introduce Youth Internship Programs for building careers of youth.
9. The students of Gilgit Baltistan are used to move to the other provinces of Pakistan because of the lack of Colleges and Universities in the region. Government should take the matter seriously and ensure higher education in the region by establishing quality educational institutions.
10. Number of Quota seats for Gilgit Baltistani must be raised in almost all colleges, universities and technical institutions of Pakistan.
11. The cultural heritage of the whole region should be preserved. Government should also take necessary steps to ensure stoppage of deforestation, climate change action and wild life safety.
12. The youth of Gilgit Baltistani region face identity crises. Political awareness should be raised to respect their feelings and identity.
13. Need and merit based Scholarships should be provided to minimize financial issues of youth.
14. The government should develop a proper mechanism for nominations of students and admissions in various colleges and universities of Pakistan.
15. Government should provide jobs to cope with rising unemployment ratio in Gilgit Baltistan.
16. The International Karakorum University should be upgraded and there should be introduced all the degree programs and courses to facilitate maximum students of the region. Karakorum University Board, being the only hope for students should also ensure quality examination and results of the students.
17. The youth talent and energy should not be exploited for any political or personal interest.
18. The government should make efforts for peace and unity in the region.
19. All the NGO's working in the region should be monitored to avoid any kind of threat for the region and government should also develop a mechanism to look after activities of its own institutions working in the region.
20. Tourism should be promoted regionally, nationally and globally to get maximum benefit.
21. National and Foreign Investors should be encouraged for investment in different development sectors in the region.
22. The government should take youth in confidence before introducing any activity or project for Gilgit Baltistani Youth.
23. A network of all GBC students studying at different institutions in Gilgit Baltistan and Pakistan should be formed to align all for the common cause.
Youth leaders also discussed issues related to GBC youth residing in different cities of Pakistan especially in Rawalpindi and Islamabad. All the organizations agreed to ensure mutual cooperation to facilitate students of Gilgit Baltistan and Chitral. Youth leaders also showed interest to meet the Chief Minister of Gilgit Baltistan in the Federal Capital and present the highlighting issues and their solutions to the government. Team YCDN welcomed all the youth representatives for joining hands to attain the common goals.
More meetings will also be held to sustain the cooperation and new projects will be introduced by collaboration among all youth organizations for the betterment of the region. YCDN believes in cooperation for the progress of Gilgit Baltistan and Pakistan and it is ready to provide services at its best for true youth empowerment in the region. Youth leaders appreciated the efforts of YCDN for promoting youth activism and arranging the dialogue. Founding Chairman YCDN and Youth Ambassador Mr. Saeed Yaqoob thanked all the representatives and forums to attend the dialogue and hoped that all the forums will continue cooperation to attain the desired goals. Mr Chairman also thanked Superior Group of Colleges for providing scholarships to students of Gilgit Baltistan and Chitral.
The event was attended by 16 youth forums. Youth leaders came up with thought provoking ideas to help in policy making and future projects by collaboration among all youth organizations of GBC region. The meeting was presided by Founding Chairman of Youth Counselling & Development Network Mr. Saeed Yaqoob. It started with identifying the key problems faced by the youth of Gilgit Baltistan and Chitral. Youth leaders not only highlighted the problems but also the solutions to cope with them. Youth of the region were represented by Mr. Noor Muhammad, representative of Gilgit Baltistan Volunteers Movement, Mr Touqeer Kazmi, General Secretary and Miss. Tahira Batool, member of Young Reformers Gilgit Baltistan, Mr. Ali Haider, Vice President and Mr Junaid Akbar, Assistant Director of Organization for Educational Change. Mr. Saeed Alam, President, Mr. Sultan Hameed, Finance Secretary and Mr. Ijaz Karim member of Baltit Academic Development Association. Mr. Roshan Din, Chairman of Gilgit Baltistan Students Organization. Mr. Kausar Ali Shah, General Secretray and Mr. Syed Fareed Ud Din member of My Education Foundation Chitral and Gilgit Baltistan. Mr. Abrar Hussain Ex President of All Baltistan Movement. Mr. Nazarullah, President of Gilgit Baltistan Students Association Mirpur AJK. Mr. Manzoor Hussain, Secretary of Youth Development Center Hashoo Foundation Rawapindi. Mr. Wazir Muntazir, General Secretary of Gilgit Baltistan Students Council Arid Agriculture University Rawalpindi. Mr. Majid Ali Mir, President and Mr. Naveed Ali General Secretary of Gitch Students Welfare Organization. Mr. Waheed Rehmat, Vice President and Mr. Sheraz Ahmed General Secretary of Ghizer Social and Cultural Forum. Mr. Mautar Wali member of Punial Students Welfare Organization Abbottabad wing. Mr. Memboob Alam, representative of Diamer Region Gilgit Baltistan. Mr. Fiaz, Member of Dariel Students Federation. Mr. Haneef Yaqoob, member of Goharabad Students Association.