AKU Examination Board Organises Pakistan's Second 'Principals' Conference' – Why Engaged Teaching and Learning Matters?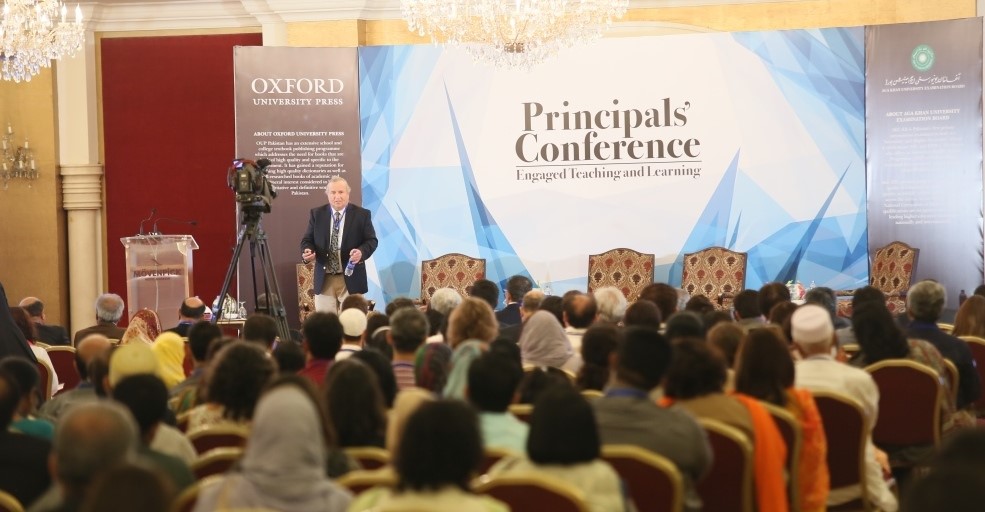 Karachi, October 19: (PR) Aga Khan University Examination Board (AKU-EB) in partnership with the Oxford University Press (OUP) hosted the second Principals' Conference in Karachi. With an aim to provide structured learning opportunities to educational leadership and to gain insights into school improvement from an indigenous as well as a global perspective; educationists across Pakistan participated in this conference to discuss challenges and to find ways to improve school leadership and thereby raise the standard of teaching and learning.
Educationists deliberated on prevalent educational issues in Pakistan and discussed how to build linkages with their peers in order to learn from best practices and thereby boost results. Participants also discussed ways to collaborate and to help students to successfully transition from one level to another.
With an aim to further strengthen and build capacity of school leadership, AKU-EB also launched Pakistan's first Principals' Network at this conference. The aim of the network is to engage school principals, heads and institutional leaders across Pakistan and to facilitate the sharing of ideas, innovations and best practices that contribute in the development and implementation of whole school improvement programmes.
The conference began with a welcome address by Dr Shehzad Jeeva, Director – AKU-EB. He shared, "Engaged Teaching and Learning affects the knowledge, skills, attitudes and capacities of student to contribute in the communities in which they live. It broadens their horizons and approach towards education which prepares them to practice higher-level critical thinking.
Speaking at the occasion, the chief guest Shahnaz Wazir Ali, Trustee – Education Trust Nasra Schools and President – Shaheed Zulfikar Ali Bhutto Institute of Science and Technology (SZABIST) said, "Why is it that when the human intellect is exploring outer space deep space, probing the depth of the ocean and releasing the vast potential of its genius through invention, discovery and innovation that our children's minds are still throttled by an education system that is rigid, inflexible and rooted in traditionalist systems and structures. The paradigm shift to center our approach to educating children on proven effective practices of pedagogy, teaching and learning is imperative.
To attain learning outcomes, in knowledge and skills, and make 'the great leap forward' so every child can achieve his/her potential, we must break the shackles of over-regulation, and centralized controls, pitch resources into promoting quality teaching and learning, and place the 'teacher'  and the 'student' at the center of the change process. The Principal's Conference brings together the change agents, "educator leaders", to transform school learning."
Renowned national and international speakers and panelists engaged the participants in thought provoking sessions. The highlight of the conference included a session by Nicholas Horsburgh, a veteran author and textbook writer of the OUP on Ownership and Engagement.
Shahid Badami, Principal, Ghulaman-e-Abbas School, and Ali Gohar Chang, Principal, IBA Public School, Sukkur, shared inspirational stories of their schools, striving to provide and promote quality education in challenging areas of Pakistan followed by a panel discussion by Dr Ayesha Mian, Chair, Department of Psychiatry, Aga Khan University, and Prof Dr Muhammad Shafi Afridi, Chairman, Board of Intermediate and Secondary Education, Peshawar.
An intriguing discussion on Re-Imaging the Textbook was led by an experienced panel including Dr Nicki Saroca, Faculty, Habib University, Rahila Ashraf, General Manager, Education, Oxford University Press,  Kermin Parakh, Principal, Bai Virbaijee Soparivala (BVS) Parsi High School, and Dr Uzma Javed, Director, Studies, The City School, Lahore.
The conference concluded with an interactive session titled 'World Café', conducted by Abbas Husain, Director, Teachers' Development Centre.
While presenting the closing note, Ameena Saiyid, Managing Director – Oxford University Press Pakistan said, "The importance of education throughout human history is undeniable. Education is the key to an individual's as well as a nation's future.  In today's world, populated by seven billion plus people, all striving for a better future for themselves and their coming generations, education is as essential as air and water, not only to survive but to progress. Education is the understanding, imparting and application of knowledge for personal as well as professional progress. Education is the foundation on which knowledge and life are built."