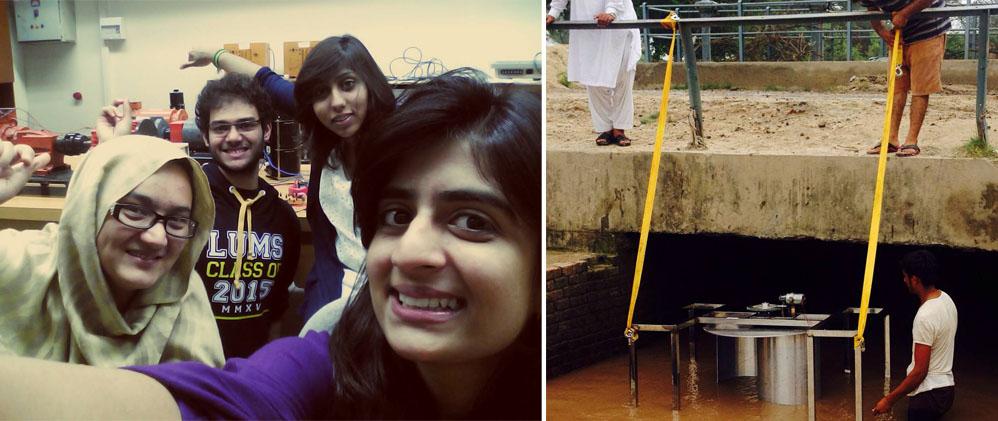 By Syed Haider Kazmi
Lahore: LUMS Syed Babar Ali School of Science and Engineering's (SBASSE) project Hydrokinetics powered Irrigation Network Automation (HINA) has been selected for the final round of ICCG Best Climate Practices Contest and the people of GB feel proud that a female student of Gilgit-Baltistan, Qurat Ul Ain, is the part of the project. According to Syeda Qurat Ul Ain Akbar who belongs to a small valley of Ghanche district, this project has been recognized among the world's top 45 projects in the field of climate change, renewable energy solutions and water management by the ICCG Best Climate Practices Contest. HINA, the designed prototype hydrokinetics system, harvests energy from the slow moving water bodies, such as canals and rivers, and uses it to operate the motors for the automation of canal gates. It is a smart and sustainable solution which provides a sustainable power solution for control of irrigation network by harnessing the inherent potential of the same source it is controlling. It provides a cost effective and sustainable base unit which is replicable, scalable and requires minimal infrastructure for deployment.
The working system has been successfully implemented and demonstrated and it is now being field tested on site at a BRB link canal. This project is also shortlisted for the final round of IEEE competition to be held in October 2015. It was one of the top 5 projects among 28 core engineering-solution projects and was presented in International Student Energy Summit 2015 held in June in Bali, Indonesia at ISES Research Corner.
HINA is the only project from Pakistan shortlisted for funding among the 45 projects and has reached the final round in the ICCG Best Climate Practices Contest. The best project will now be selected based on public voting on all ideas.  Go through the project in the link below and do cast your vote for HINA if you like the project idea:
http://lums.edu.pk/news-details.php/lums-sbasse-project-selected-3556
http://www.bestclimatepractices.org/practices/?competition=1#plist
 The link to go directly to HINA:
http://www.bestclimatepractices.org/practices/hydrokinetics-powered-irrigation-network-automation-hina/