Group Captain Shah Khan, Hero of Gilgit-Baltistan's War of Freedom, Has Passed Away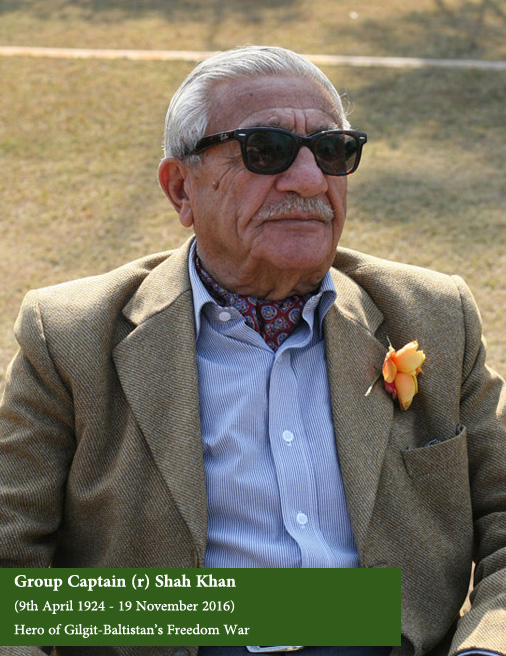 Gilgit: Group Captain (r) Muhammad Shah Khan, son of Mir Nazim Khan of Hunza, and hero of Gilgit-Baltistan's war of freedom, breathed his last at 10 am today at the Combined Military Hospital, Gilgit. He was born on 19 April 1924, according to his National Identity Card. He lived for 92 years, 7 months and 10 days.
Group Captain (r) Shah Khan was a Junior Commissioned Officer in the Gilgit Scout. He led the Eskimo Force during the year-long freedom war against the Dogra occupiers. He was part of the group of five JCOs that took oath to fight against the Dogra occupiers, and led the year long war starting on the first of November, with the arrest of Dogra Governor Ghansara Singh.
He was awarded Sitara-e-Jurat, Pakistan's third highest gallantry award, for his glorious role in the liberation of Gilgit-Baltistan.
After the freedom war came to an end, with the liberation of 27,000 square miles of land, Shah Khan got commissioned in the Pakistan Air Force. He retired as a Group Captain. He led the establishment of the Naltar Ski Resort.
Group Captain (r) Shah Khan was the last of the leaders of the freedom struggle.
He will be laid to rest 11 AM at the Chinar Bagh, among the other freedom war heroes, in the vicinity of the monument of martyrs, close to the Gilgit-Baltistan Legislative Assembly.
Chief of Air Staff is expected to attend the funeral. Family sources informed that the funeral is being managed by the Pakistan Air Force.
With reporting by Abdul Rehman Bukhari.