Sheikh Mohsin Ali Najfi's names taken off the fourth schedule list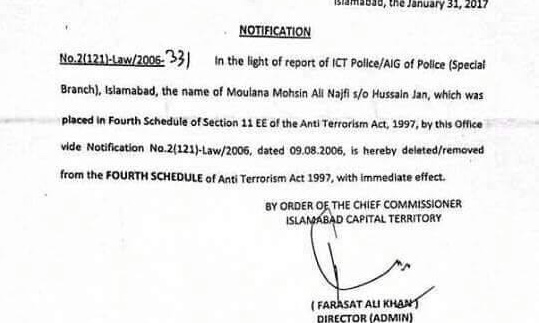 Nisar Ali
Islamabad: Sheikh Mohsin Ali Najafi's name has been taken off the fourth schedule list, according to a notification issued today by the Chief Commissioner ICT's office.
His name had been put on the fourth scheduled in the month of August last year under section 11EE of the Anti Terrorism Act 1997.
His supporters had been demanding of the government to take the name off the fourth schedule. People suspected of supporting or abetting terrorism are generally placed on the ATA's fourth schedule list, and all their activities are monitored for a long period.
Founder of the Uswa Education System, Sheikh Najafi belongs to Kharmang district of Gilgit-Baltistan. He is a renowned Shia scholar who has authored several books and managed various educational institutions.
Currently, Sheikh Najafi is the patron of Madina Colony located in Skardu, where people from low-income background are fed, sheltered and educated. The bank accounts of the Madina colony were frozen after Najafi's names was put on the fourth schedule.