PPP gains strength in Ghizer after prominent politicians join party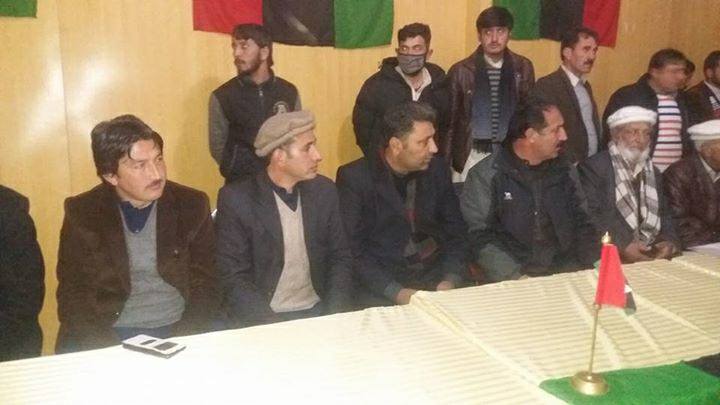 Safdar Ali Safdar
Gahkuch: Prominent political figures in Ghizer district on Sunday formally announced to join PPP during a gathering in Gahkuch. The announcement they made in a huge gathering held in the district headquarter Ghakuch . 

The leaders who announced to join PPP were included renowned lawyer and Ex-candidate GBLA-20 Ghizer-2, Nazir Ahmed Advocate, Ex-candidate GBLA-19, Ghizer-1 Zafar Muhammad Shadumkhail, Ex-candidate GBLA-20, Nadir Khan Advocate, Ex-candidate GBLA-19 Syed Madad Shah, Shah Madad, Islam-ud-Din Advocate, Ashfaq Advocate and others along with their workers and supporters. 

"PPP is not a new party for us as we had been longer political affiliation with this party" said Nazir Advocate adding that he has been in the party's insurgent group since 2009 due to some reservations. "PPP is the only party which protects people's rights, I will prefer to remain live in the insurgent group if the party's provincial leadership becomes fail to protect basic rights of the people of my district" , he added.

"I am also not new in this party as my ancestors have given lot of sacrifices for the party's struggles against removing of the Frontier Crime Regulations (FCR) from the Ghizer district" claimed Zafar Shadumkhail in his speech who was one of the party ticket-holders of the All Pakistan Aam Adimi Party (APAAP) during GBLA's elections, 2015.

Speaking at the occasion, PPP's provincial president Amjad Hussain Advocate burst on the Chief Minister Gilgit-Baltistan Hafiz Hafeez ur Rehman showing concerns over his government's policies.
He alleged that Hafeez becomes the champion of corruption, nepotism and favouritism by distributing illegal jobs and tenders of development projects among his brothers and business partners. Enough is enough, now we will not let him selling the properties and lands of the inhabitants because our team is completed and the politics start now, he said.

Thanking to the Pakistan Army on the decision of making Gilgit-Chitral route as an alternate of KKH under the China Pakistan Economic Corridor (CPEC), Amjad said that the CM Gilgit-Baltistan is still opposing the decision owing to his conservative thinking about the Ghizer valley.

Amjad Hussain Advocate criticized Chief Minister Gilgit-Baltistan for not defending the ownership rights of the people of GB. He also announced to start the movement to protect the rights of governance and ownership of land.