Absence of Gilgit-Baltistan Chief Minister in OBOR Forum triggers strong reaction
Islamabad: The absence of Chief Minister Gilgit-Baltistan, Hafiz Hafeezur Rehman in the Pakistan delegation that went to attend OBOR events in China has drawn strong reaction in the region. University students, lawyers and other professionals, have equated his absence in the delegation as a continuation of Pakistan's neglect of the strategic region that connects Pakistan with China, and through which the China-Pakistan Economic Corridor passes.
Hundreds of memes, short write-ups, and statements posted on social media websites, like Facebook, are being used to protest the absence of Gilgit-Baltistan's elected Chief Minister in the delegation.
Others, including PPP's regional president Amjad Hussain and senior vice president Jamil Ahmad, and PTI's Raja Jalal Maqpoon and Fatah Ullah, have asked the Chief Minister to resign for not being given representation in the event, which is being attended by CMs from Punjab, Balochistan, KP and Sindh, along with several federal ministers and bureaucrats.
Neglect of Gilgit-Baltistan in CPEC related projects, and denying the elected representatives the opportunities to defend the mountainous region's economic, geographic and environmental interests have been a cause of concern for the region's 2 million people, who do not have any direct representation in the national parliament and other policy making bodies.
In the past, political leaders and rights defenders have urged the government of Pakistan to take a clear student vis-a-vis the constitutional status of Gilgit-Baltistan, declare the region a constitutional province, on provisional basis, and allow the people the autonomy to govern their region and utilize their resources for their own development. These demands, echoed in two resolutions passed by the GBLA, have yet to be addressed by the federal government of Pakistan. Gilgit-Baltistan is the only region of Pakistan sharing a direct border with China. It is, therefore, also being called the "Gateway of CPEC". Nevertheless, the region's role in decisions related to CPEC project has been negligible. This has caused frustration among the growing young population of the region, who are educated and aware of their peculiar situation.
A national daily, Pakistan Today, has reported that for 'unknown reasons' the name of Chief Minister Gilgit-Batlistan was allegedly dropped from the list of Pakistan's official delegation on the last minute. This has not been confirmed by the CM's office. However, there were reports earlier this week that all CMs, including of Gilgit-Baltistan, will accompany the Prime Minister during his official visit to China.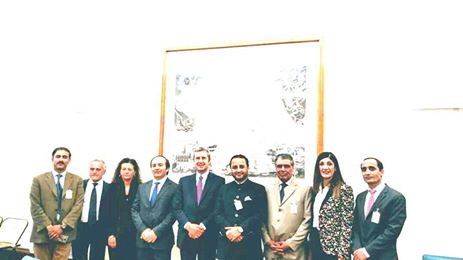 It is pertinent to note that Chief Minister Gilgit-Baltistan is currently in Italy, where he had gone a week earlier to attend some official events. He also held a meeting there with an under-secretary of the Italian government to discuss irrigation and other development projects in the mountainous region.