Independence day celebrated at Brilliance School of Studies Kosht, Chitral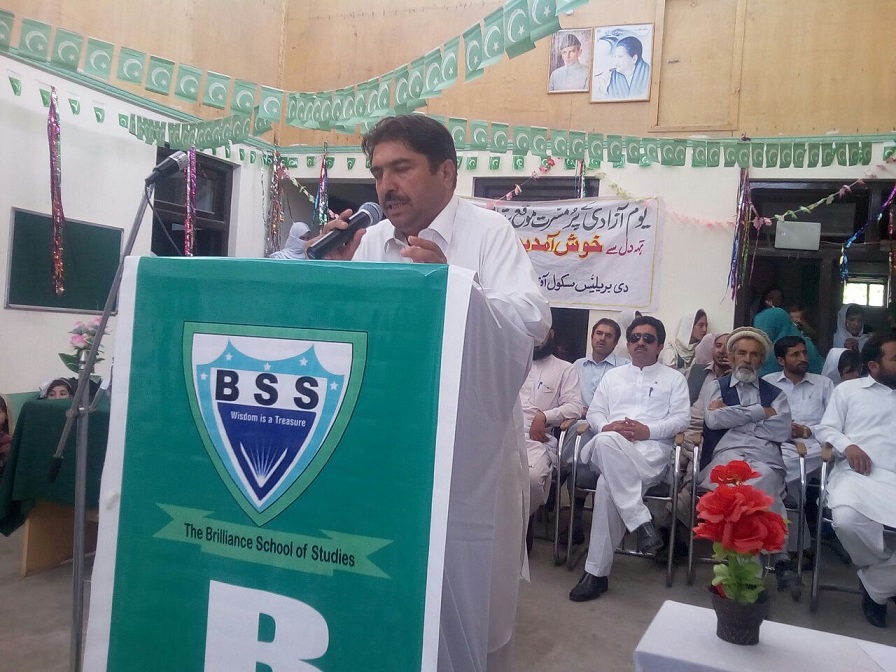 By Farid
Chitral:  The 70th Independence Day of Pakistan held on 14th August 2017 at the premises of the Brilliance School of Studies (BSS) Kosht. Member district Council from UC Kosht Advocate Ghulam Mustafa was the chief guest and Maulana  Sirajud din  presided over  the program.  Very large number of students, teachers from other schools, ulama, parents, notables, and people belonging to all walks of life participated in the program.
The colorful program formally started at 9 am with the recitation of the holy Quran by the faculty member of BSS Yosuf Ali, later on National anthem was played by the BSS students joined by the large gathering.
Administrator of the BSS Mr Naman Zainul Abideen welcomed the guest and congratulated them on the 70th Jashan Azadi of our beloved country Pakistan.
The students of BSS Kosht Sonia Arif and Rahila Nazish offered Hamd-E-Baritala , students of Jamia Islamia Rizvia(JIR) Kosht Farhan  and GHS Muzhgole Tahir offered Naat-e-Maqbool (S.A.W) respectively.
Later on students Alia Akber of GHS Kosht, Sakina Hayat of CBS Muzhdeh, Assad of AKS Morder and Nilofar Iqbal  from Ideal Public School Kosht spoke on the occasion.  While delivering their speeches, they said that freedom is a priceless gift from God Almighty, whether it is geographical, economical or religious, but we got all in one as on 14th August 1947 under the dynamic leadership of father of the nation, Quaid e Azam Muhammad Ali jinah. They further said that to day,s Pakistan demand's  from all of us to be hardworking and honest in all matters of our responsibility. As a student this should be our prime responsibility to equip ourselves with the modern and quality education to shoulder the responsibilities of tomorrow's Pakistan with confidence and trust.
Meanwhile as a part of thanksgiving to God Almighty for the noble gift in the shape of independent and beloved country Pakistan, impressive presentations were made by the students from IMS Kosht,JIR Kosht, BSS and GHS Kosht and Muzhgol, community Based School Kosht, Agha Khan School Morder, Ideal Public School Kosht in shape of hamad, naat sharif and national songs, even poems in Khowar language were shared turn by turn with huge appreciation by the audience.
While representing parents and community of the area ,  Mr Abdullah jan and Mr Nadir Khan congratulated the BSS management for successfully arranging such an event of national importance and advised the students as well as  parents to fulfill their responsibilities as a thoughtful nation, so that lives of our generation  is better guaranteed.
A renowned school teacher and Academic director of BSS Kosht Mr Noorul Saba congratulated the audience on the 70th Independence Day and said that this entire event arranged by the BSS is to give thanks to Almighty God, that He blessed us with such a beautiful, separate and independent country under the un matched leadership of father of the nation Quaid e Azam Muhammad Ali Jinah. He further said that this is the day to pay tributes and remember all the sacrifices given for the freedom and existence of this beloved land without any discrimination of cast, creed, color or religion.
Chief guest member Union council Kosht Advocate Ghulam Mustafa paid rich tributes to the BSS management for arranging such a wonderful event and said that now this should be our collective responsibility to carry forward the great legacy left by our leaders through continued hard work with honesty, accountability, becoming model of the good, for which we desire to be as a nation. Mr Ghulam Mustafa highly appreciated the vision behind establishment of BSS and its progress so far. He promised all out support in this regard and announced Rs 150,000/ as financial support for enhancing educational facilities for girls in the campus. He also applauded all students for their participation in various activities and performed up to the mark
Maulana Sirajud din in his presidential address applauded the services of BSS in connection with youth development both socially and morally. He advised the youth to engage themselves in healthful activities by acting upon the guidance from the holy Quran and sunnah and keep balance to have successful career and life.
At the end Mr Ihsanullah Principal BSS Kosht heartily thanked the participants for their presence in a huge number to mark the Independence Day at BSS. He also lauded the best performance of students in the events and congratulated their teachers and the parents. Prizes, shield and souvenirs were distributed by the BSS among the performers.