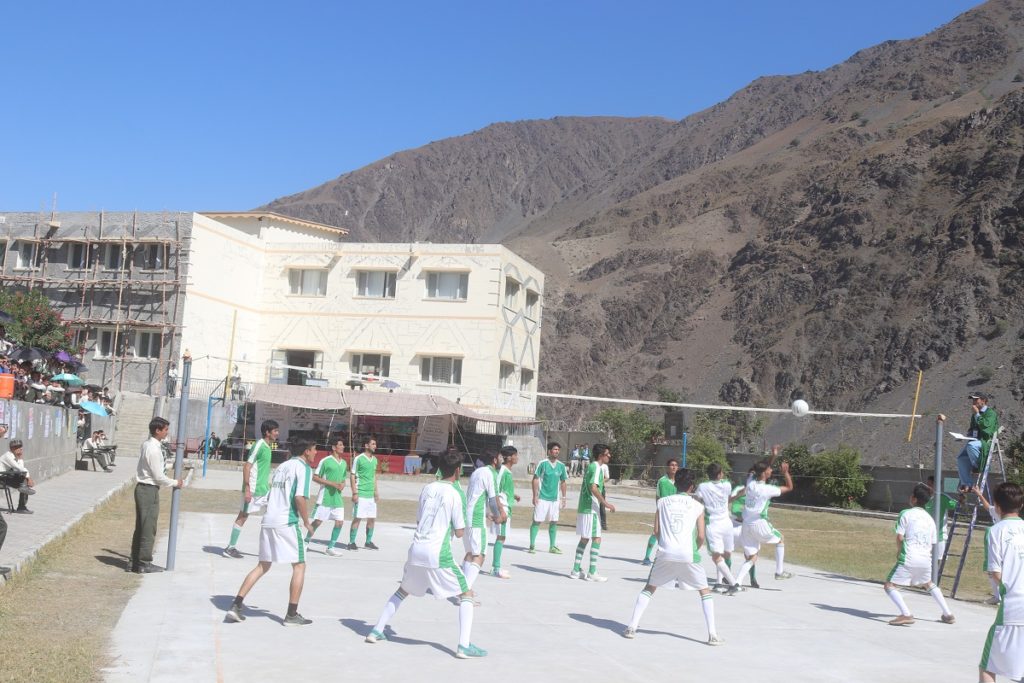 ---
CHITRAL: A three-day Sports Gala under the theme, "Rally for Sustainable Development Goals" Sports Gala 2019 concluded at Aga Khan Higher Secondary School, Seenlasht Chitral. The purpose of the theme was to help bring international dimensions in the students learning process and to sensitize them about the common aspirations and challenges which the globe experience collectively. This is done by incorporating the SDGs of the UN in students learning outcomes, covering the contents of school's syllabus in co-curricular activities and sharing those activities with national and international partner Schools.
The annual sports Gala 2019 of the School was planned by the similar understanding through which students were provided not only moments of pleasure and enjoyment, but the realm of sports was used to infuse in the student sensibility to be responsive to societal needs and to build their life skills by involving in sports activities. Positive mood of competition, connecting the contents of the syllabus with different games, reflection of SDG in the ground and play areas, interaction with students of different schools, guest and dignitaries and the opportunity to practice their skills in games, commentary, umpiring etc., were some of the features of the gala.
The three-day gala started on October 8 and concluded on October 9, 2019. The opening ceremony was attended by guests including ADEO sports Mr. Farooq Azam, Mr. Abdul Hafeez faculty member Centennial Model High School Chitral and a well-known football player of a local club and Mr. Fida Ur Rehman, Director Usama Waraich career Academy Chitral. Local people and students of Seenlasht area also attended the opening ceremony. Sports items included in the Gala included competition in Cricket, Volleyball, Basketball, Tug-of-war, 100 Meter Race, Sack race, Carrom Board, Table Tennis and Badminton. The second day was full of joy and competition in all the above games with wonderful commentary by students and music performance by members of AKHSS Music Club.
The Concluding ceremony was attended by the Chief Guest Deputy Commissioner Lower Chitral, District Administration's staff, Headmaster, teacher and students of Government Middle School Seenlasht, Students and teachers of Eagle Eye Public School Seenlasht, representatives of media including Mr. Shehriyar Ahmad and Mr. Bashir Hussain Azad and Mr. Zulfiqar Ali, Sr. Manager School development AKESP Chitral .
In his speech the deputy commissioner appreciated the student's sportsmanship and discipline throughout the event and urged that cocurricular activities should be focused along with academic of the students. The Chief guest and other guest presented awards and certificates among the winners and runner-up teams. The Chief guest also announced cashes prizes for the students to appreciate their activities. He asked the school administration to inform him of other activities of the school, where he can participate.
Championship in the game of cricket was secured by Grade-12 and runner-up was grade 11, in Volleyball Grade-11 won the final and Grade-12 was runner-up, in Basketball championship was secure by Grade-12 and runner-up status was secured by Grade-11, in Tug-of-war Grade-12 won against Grade-11.
100 meter race was won by Kashif of Grade-10 Green against Milad Fida of Grade-10 White, In Sack race Grade-12 student Farhan won against Mohammad Faizan of 10 White, in Carrom Board Mubashir Hussain of Grade-10 White won against Mir Afzal of 10 Green, In Table Tennis Grade-12 student Saban Ali Azhar won against Saughat Sameem of Grade-10 White, whereas, in Badminton Grade-9 white student Sameer Mehmood secured the championship against Ahab Ishaq of Grade-8 White.