Gilgit-Baltistan: An emerging oasis of gender equality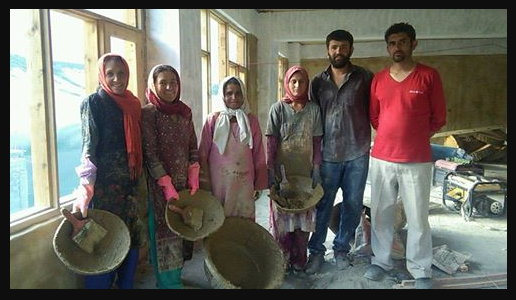 By Kiran Shah
Gilgit-Baltistan, also called the Northern Areas of Pakistan, is know for its natural beauty, but it is also known because of the people living there. Tourism has recently seen a boom, and the economy is improving day by day, due to better law and order situation. Quality of life is gradually improving.
A lot of progress has also been made in the realm of women empowerment. Women are actively participating in the economy and society.
As Gilgit is a mountainous region, life here is significantly different from other industrial cities. From culture to values and traditions, everything is diverse. Despite this the people of this region portray a lot of acceptance. This can be understood by the fact that women residing in some parts of this region engage in professions such as carpentering to plumbing. Various people talk about gender equality but these talks end up remaining talks only, but GB, despite being backward and remote, can be seen as setting an example in Gender equality.
Recently, I got to meet some women who were neither wearing branded dresses nor living in big homes. They belonged to a village where the road is not properly built and infrastructure is very poor. Where there are no primary schools and a child needs 2 hours to reach to another village to acquire education. Where people do not possess shiny cars but the level of intellect that those women showed is laudable. Although education teaches us how to be a good human but a good society can be only run when both men and women work together. Though people's homes are poorly built, but their thoughts are well developed. Though the roads for their homes in mountains and are broken but with thoughts of people living there are higher than those mountains.
These were those women who were doing the work of plastering on an under-construction resort in Borith and the owner of that resort, Muhammad Fareed, was also busy working with them.
Fareed, very proudly, told me that they fully support their women and there is not any kind of work that their women cannot do. In fact if their women think of doing something, they end up doing it better than men. "These women are our mothers and sisters who work along with us. We do not have any problem working with them", he said.
Because women in this sector are new, their pay is relatively less than man but they are getting many new contracts. It is really commendable that women are working better than men. This is not surprising but it is definitely something to be proud of that despite being deprived of so many facilities, despite crossing so many miles to reach school and despite being away from families to acquire higher education, the seed that is being sown in minds of these women can make them reach the sky.
From the women of Borith – Gojal  to the women of Altit Fort working as carpenters, from judge Amna Zameer to SSP Tahira, and from mountaineer Samina Baig to OBE awardee Nishat Riaz, women of Gilgit-Baltistan are making progress in every sector.
In all kinds of household chores such as cleaning and looking after farms and animals, women are showing their abilities which is again not at an easy task. This needs both hard work as well as determination which these women possess.  The women are well acquainted with the skills of time management and working hard to improve their living standards breaking the stereotypes of the society. Though their ancestors never got a chance to attend colleges and universities but the pillars of courage and determination that they cemented not only tells about the ways to get successful and but also shows us the true picture if Islam.
I am proud to say that I belong to an area where people are free in a true sense.
In my opinion people need to understand the true meaning of modernization. The problem in my opinion is that youth confuse the term modernization with acquiring materialistic things which is totally wrong. These women of Gilgit Baltistan, who cannot even properly speak Urdu or English are teaching our nation the true meaning of modernization. A place where women are free to do whatever they want to do and where there is freedom of work and thought, deserves to be truly called 'modern'.
While a lot of progress has been made, there are some parts of Gilgit-Baltistan where a lot of work needs to be done to uplift the womenfolk. If the people of Gilgit-Baltistan continue to work on gender equality and women empowerment, then the future of our region will be very bright.
Women empowerment is need of current time. In 21st century, only those societies can progress where women are fully empowered. I hope that the people of Gilgit-Baltistan will continue to let their women go head in future and the women will continue to break the stereotype and reach new milestones every day.