USAID, CEENA Health & Welfare Services sensitize 300 people in Ghizer on child rights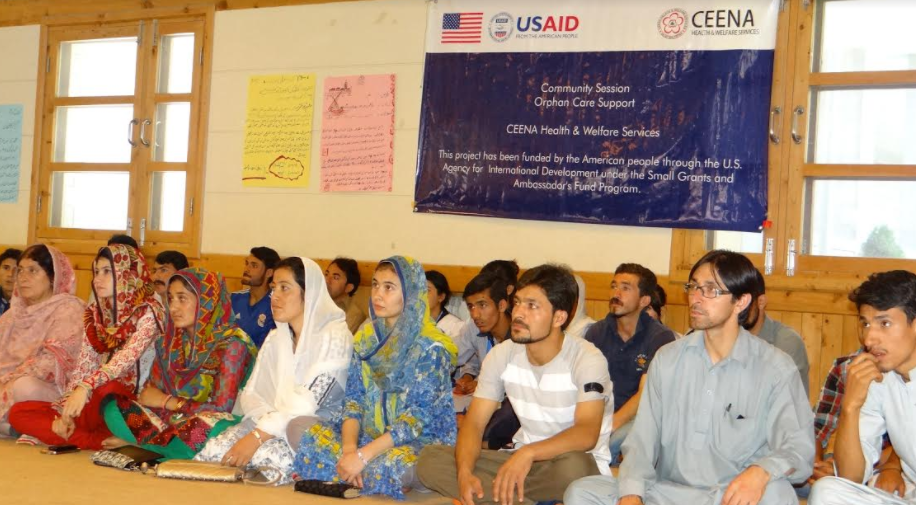 Ghizer: CEENA Health & Welfare Services concluded its awareness-raising campaign in district Ghizer on children's rights with two sessions for the communities of Singal and Sher Qila. This campaign is being held under the USAID Small Grants & Ambassador's Fund Program-supported Orphan Care Support Project of CEENA in three districts of GB. More than 300 people were sensitized in Ghizer where previous sessions were held in villages Gulodas, Chatorkhand, Ishkomen Proper and Immit.
The sessions in Singal and Sher Qila were held in cooperation with the Local Support Organizations (LSO) in both villages. A large number of men and women attended the sessions including active community leaders and youth. The focus of the session was on the issues of disadvantaged children such as orphans, children from ultra-poor families and abandoned babies. Other challenges such as increasing and stress and emotional problems faced by teenagers and youth as a result of a fast-changing socio-cultural scenario were also discussed.
A large number of vulnerable children from district Ghizer are being supported by CEENA in their education, health and other needs, assisted by USAID through Orphan Care Support. Case studies of some of these children and the challenging circumstances in which they were found were also shared with the audience. A big challenge that the district faces is a high suicide rate, particularly among the young. This issue was also discussed and audience members shared their own experiences and observations on this issue while also giving recommendations about steps to curtail it.
CEENA's strategy in supporting ultra-poor families is long-term investment in the education of their children. In this regard, USAID is helping diversify the skills set of students in CEENA's care by providing free-of-cost trainings in Early Childhood Development and tailoring to them. Moreover, the awareness-raising campaign run under Orphan Care Support in Gilgit and Hunza in addition to Ghizer has also helped sensitize communities while also giving them a platform to share the challenges faced by vulnerable children in their respective areas.
LSO representatives and participants of the session expressed their thanks for USAID and CEENA for holding the much-needed sessions in their villages and committed to play their roles in defending the rights of vulnerable children.