Aga Khan Health Services and Gilgit-Baltistan Govt join hands to strengthen health systems in the GB region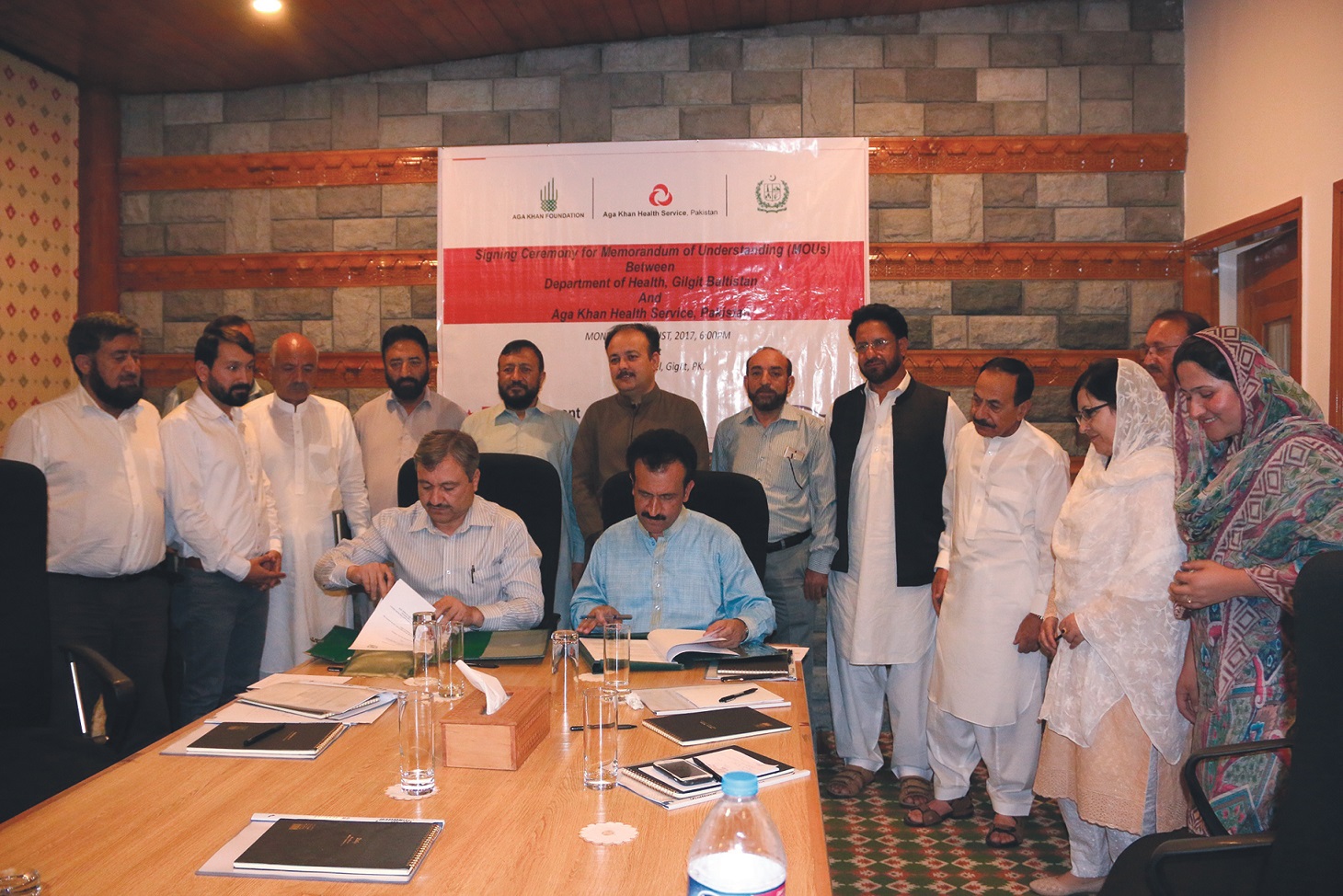 Gilgit: Aga Khan Health Service, Pakistan (AKHS,P) and the Gilgit-Baltistan Health Department recently signed two MoUs for strengthening health services for over 400,000 people in the Gilgit-Baltistan (GB) region.
The MoUs were signed by Dr. Rasheed Ahmad and Dr. Muhammad Iqbal, representing GB Health Department, and Dr. Sifat Wali, representing AKHS,P in the presence of Secretary Health, District Health Officers (DHOs) and other key government officials. Both projects aim to strengthen health services in Gilgit-Baltistan with a special focus on maternal and child health.
Under the Access to Quality Care through Extending and Strengthening of Health Systems (AQCESS) programme – funded by the Government of Canada – AKHS,P will enhance 31 Basic Health Units, including 20 managed by the government health department, in five districts – Astore, Ghizer, Gilgit, Hunza and Nagar. The project is expected to reach approximately 202,075 women of reproductive age and 128,153 children under the age of five (49.1% girls).
The aim of the AQCESS project is to make the health centres more accessible and effective caregiving facilities. The project entails training of doctors, nurses, Lady Health Visitors (LHVs), Lady Health Workers (LHWs) and Community Health Workers (CHWs).  It will encompass the repair and renovation of delivery rooms and facilities. Medical equipment and medical supplies will also be provided to the health units based on health facility assessment and comprehensive needs analysis. AQCESS is expected to reach approximately 202,075 women of reproductive age and 128,153 children under the age of five (49.1% girls).
Under the second MoU signed for the Reproductive, Maternal, Neonatal and Child Health Care Initiative (RMNCH- Initiative) – funded by KfW Development Bank – the health initiative will cover a population of 96,156, including 7,692 women of reproductive age and 12,884 children under five years of age.
The second MoU – for the RMNCH- Initiative – aims to deliver better access to the rural poor and vulnerable populations to demand-driven, equitable, affordable and quality reproductive health services. The project entails improvement of 9 health facilities – 6 in Skardu and 1 each in Ghizer, Gilgit and Hunza – by equipping them with essential medicines, equipment and supplies. It also includes training of health care providers in Healthy Timing and Spacing of Pregnancy (HTSP), Essential Maternal and Newborn Care (EMNCH) and Infant and Young Child Feeding/Essential Nutrition Actions (IYCF/ENA). This will enable community-based health workers to educate married women of reproductive age about healthy practices.
Moreover, under the RMNCH Initiative, AKHS,P will establish a facility for staff accommodation at the Aga Khan Medical Center, Gilgit (AKMCG), to ensure round-the-clock availability of health services. Three health facilities in Skardu will also be linked with AKMCG through eHealth.