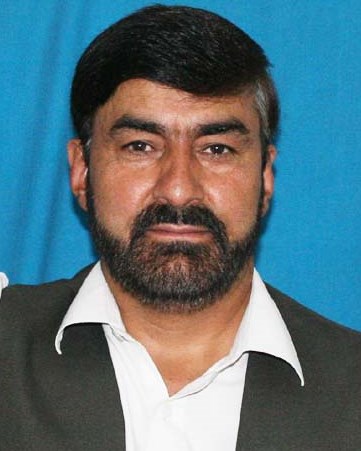 GILGIT: Speaker Gilgit Baltistan Legislative Assembly (GBLA) notified Captain (r) Muhammad Shafi as the new leader of opposition in GBLA after physically verifying the signatures of the seven members signed the requisition in his favor.
The notification mentions that the speaker GBLA has declared to remove Mr. Shah Baig, Leader of Opposition GBLA from his office in pursuance of Rule-267 of the GBLA Rules of Procedure and Conduct of Business-2017 as all the opposition members have shown no confidence on him.
The members who had signed the requisition in favor of Captain Shafi were Captain (r ) Skandar Ali, Haji Rizwan Ali, Bibi Haleema, Rehana Ibadi, Kacho Imtiaz Haider and Nawaz Khan Naji. These members were from Islami Tehreek Pakistan (ITP), Mujlees Wahdatul Muslimeen (MWM) and Balawaristan National Front (Naji).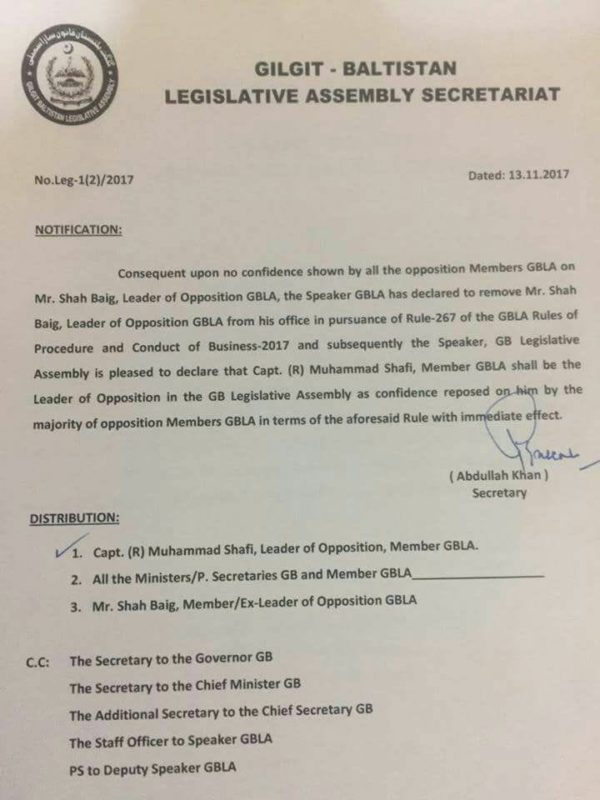 Javed Hussain of PPP had also submitted a requisition with the signatures of Kacho Imtiaz Haider, Haji Rizwan Ali, Imran Nadeem, Raja Jahanzeb and Nawaz Khan Naji to notify him as a opposition leader in GBLA.
Haji Shah Baig of JUI (F) has submitted a writ petition in GB Supreme Appellate Court requesting to nullify the rule of procedure approved by GBLA on October 12.
Haji Shah Baig had become the leader of opposition in GBLA in a lucky draw in which opposition members of PPP, PTI, MWM, and JUI had tried their luck. Through the lucky draw, these four parties had excluded the single largest opposition party Islami Tehreek Pakistan from the process.