Amnesty scheme notified for transportation of cut timber from Diamer district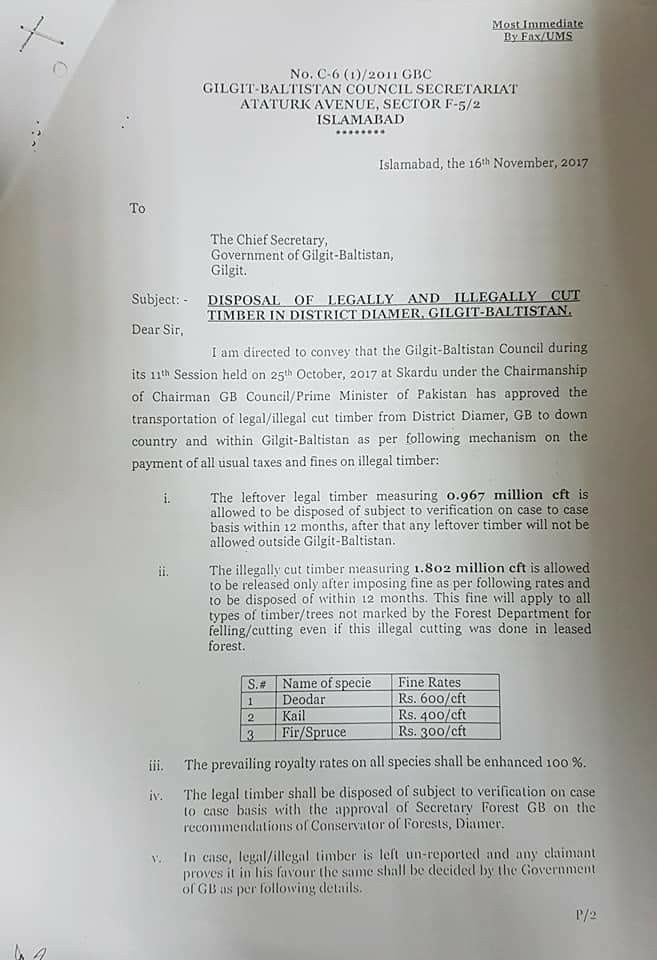 ISLAMABAD: Gilgit Baltisan Council has notified an amnesty scheme for the disposal of legally and illegally cut timber in Diamer district. The new policy also increases the prevailing royalty rate on all specie by 100%.
The notification mentions that this would be the last amnesty scheme and in future all illegal cut timber shall be confiscated by the Forest Department, GB and auctioned within three months.
The notification directing Chief Secretary Gilgit-Baltistan mentions that the GB Council during its 11th session held on 25th October, 2017 at Skardu under the Chairmanship of Chairman GB Council/Prime Minister of Pakistan has approved the transportation of legal/illegal cut timber from District Diamer, GB to down country and within Gilgit-Baltistan as per mechanism formulated on the payment of all usual taxes and fines on illegal timber.
The notification allows disposing of the leftover legal timber measuring 0.967 million cft subject to verification on case to case basis within 12 months, after that any leftover timber will not be allowed outside Gilgit-Baltistan.
The illegal cut timber measuring 1,802 million cft is allowed to be released only after imposing fine as per formulated rates and to be disposed of within 12 months. The fine will apply to all types of timber /trees not marked by the Forest Department for felling/cutting even if this illegal cutting was done in leased forest.
The notification directs that formulation of policies for the disposal of illegally cut timber of privately owned forests shall be discontinued in future as the timber disposal policies have failed to stop the pace of illegal cutting of forests.