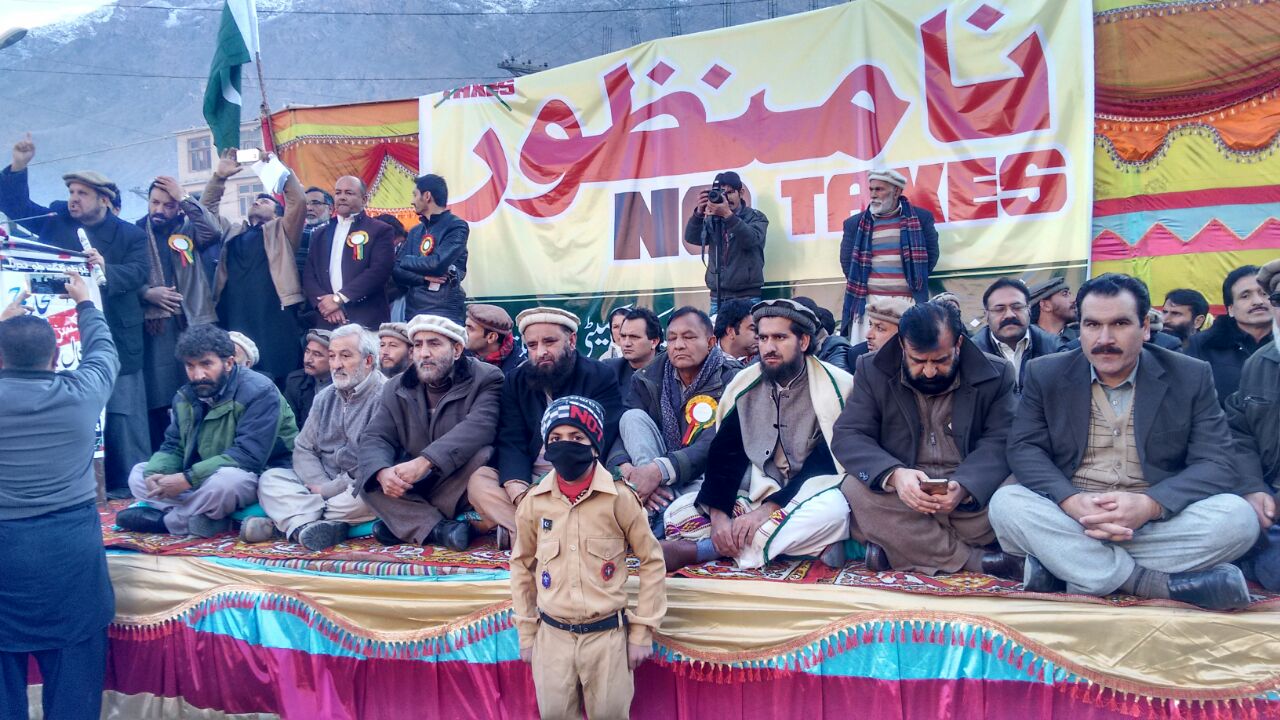 GILGIT: On the call of Markazi Anjuman-e-Tajran and Awami Action Committee  traders continued shutter-down strike on the second day to protest against the imposition of taxes in Gilgit-Baltistan.
Like the previous day, all business activities were closed in all 10 districts of Gilgit-Baltistan.
Leaders of the trade associations and awami action committee have announced to march towards Gilgit from all districts of Gilgit-Baltistan on Saturday. They have decided to suspend the shutter down strike in Gilgit on Saturday to facilitate the preparations for the announced march.
Also Watch the video report Protest in Skardu 
Thousands of people on Friday gathered at Yadgar Chowk Skardu and Itehad Chowk Gilgit and demanded immediate suspension of all taxes imposed in Gilgit-Baltistan through GB Tax Adaptation Act 2012. Speakers belong to traders union and political parties announced to start march towards Gilgit on Saturday.  They blamed the government for using sectarian and local-non local issues to divide the protesters.
Also Watch the video report Protest in Gilgit 
The residents of Gilgit-Baltistan residing in twin cities also organized a protest in Islamabad. Opposition Leader Captain (r) Skandar, members assembly Nawaz Khan Naji and Raja Jahanzeb and other speakers demanded immediate withdrawal of all taxes from Gilgit-Baltistan
Meanwhile, addressing a press conference in Skardu Senior Minister Haji Taban, member GB Council and Commissioner Baltistan said that Chief Minister has discussed tax issue with Prime Minister of Pakistan in Lahore. They said a meeting of GB Council will soon be called to resolve the issue forever.
Addressing another press conference in Gilgit, Law Minister Aurangzeb Advocate and Adviser Information Shams Mir said that traders and awami action committee will be taken into confidence to amend the tax adaptation act 2012.   They said the ongoing protests were creating problems for common people and hindering the development process in GB.
Also Watch the video report Protest in Chilas
It is here to mention that the protest call was also backed by all major political and religious parties including Islami Tehreek Pakistan, Pakistan Tehreek-i-Insaf, Pakistan Peoples Party, Majlis Wahdatul Muslimeen, Jamat Islami and Jamiat Ulema-i-Islam-F. Petroleum Dealers, Transporters, Minerals and Gems and Hotels associations, GB Chamber of Commerce and Industry,  Supreme Court and High Court Bar Associations have also announced support to this protest.