Italian Govt and People have contributed to the development of GB-VC KIU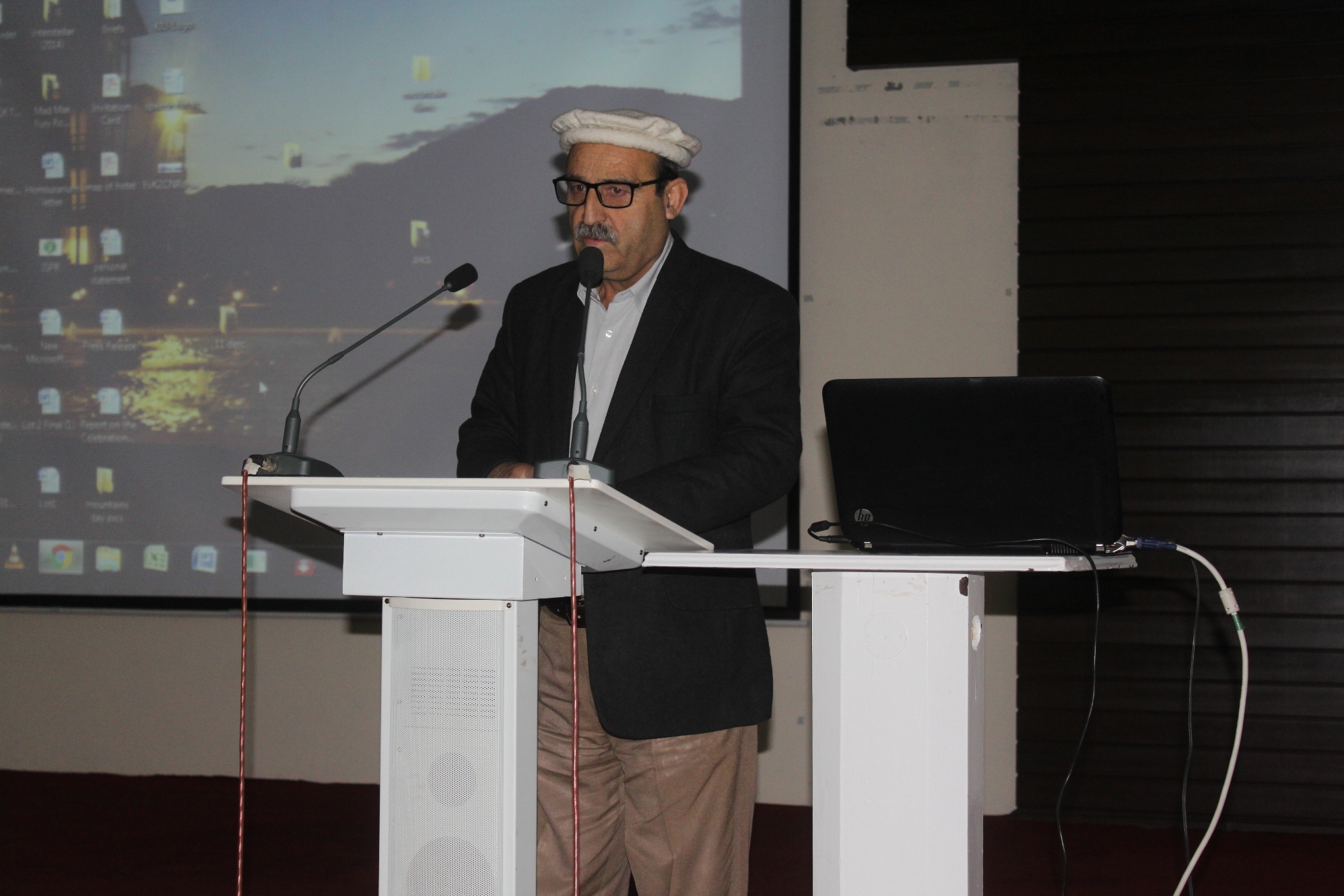 GILGIT: Coinciding with the International Mountain Day, Embassy of Italy in Islamabad and EvK2CNR Pakistan organized Mountain Film Festival at KIU whereby best films from Trento Film Festival were screened for the participants on December 21, 2017 at Musharraf Hall.
Vice Chancellor KIU, Dr Khalil Ahmed was the chief guest on this occasion. Principal of Govt Elementary College for Women Gilgit, Riaz Ul Hassan Resident Representative EvK2CNR Pakistan, faculty, students and a large number of public also participated in the event.
Dr. Khalil Ahmed Vice Chancellor KIU, speaking on the occasion, highlighted the contribution of Govt of Italy in the socio-economic and environmental development of Gilgit-Baltistan. He specifically mentioned about the Social Economic and Environmental Development (SEED) project implemented by EvK2CNR together with KIU in CKNP. It supported KIU in the research and also implemented number of development projects including installation of solar system, setting up of state of the art water quality lab etc. He also applauded the role of EvK2CNR for its contribution at KIU and GB at large working for last many years in the region.  The Vice Chancellor thanked the Embassy of Italy in Pakistan for supporting initiatives to highlight the vulnerability of mountains spreading awareness. He expressed hope for hosting more programs with the support from the Italian Embassy.

Principal Elementary College for Women Gilgit appreciated the event and said that Gilgit-Baltistan was one of the most beautiful areas in the world.
Arif Hussain Technical Representative EvK2CNR said that Pakistan was one of the most vulnerable countries to the climate change phenomenon. He emphasized on understanding the role of everyone in protecting mountains and glaciers. He informed the participants that EvK2CNR had collected 80000 KGs of waste from the mountains and glaciers on Baltoro and adjacent mountains including K2.
The participants admired the films on the mountains of Gilgit-Baltistan and demanded to hold similar events in the future even at college and school level.