Skardu: Activists and student leaders demand release of Advocate Ehsan Ali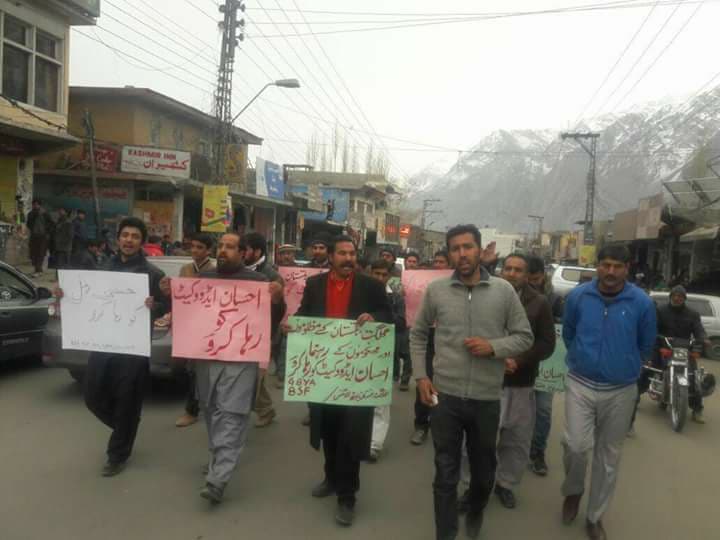 Skardu: Several groups of youth and students' organizations staged a protest demonstration in Skardu, condemning the detention of Gilgit-Baltistan Supreme Appellate Court Bar Associations' President Advocate Ehsan Ali.
Holding placards and raising slogans, the protesters said that the case against Advocate Ehsan Ali is concocted and registered with the intention of persecuting him for his political activism.
The protesters paid rich tributes to Ehsan Advocate, who has been a leading voice against the constitutional and political deprivations of Gilgit-Baltistan region. The speakers said that Ehsan Advocate has always been a promoter of peace and harmony, and he has played a leading role in bringing people from all sects and walks-of-life together.
Advocate Ehsan Ali was arrested two days back in Gilgit on charges of re-sharing an allegedly 'anti-religion' post on Facebook. Advocate Ehsan had reshared the photograph of a girl wearing jeans sitting on a platform inside a Mosque during the anti-government protests in Iran.
He had later removed the post, and also shared an apology on Facebook for 'unintentionally hurting' the sentiments of some people, who objected to the post as 'derogatory'.
The protest was attended by leaders and workers of Baltistan Students Federation, Imamia Students Organization (ISO), Gilgit-Baltistan Youth Alliance, BYA and BYF.