Officials and Tour Operators from Gilgit-Baltistan attend Hestourex Congress and Exhibition in Turkey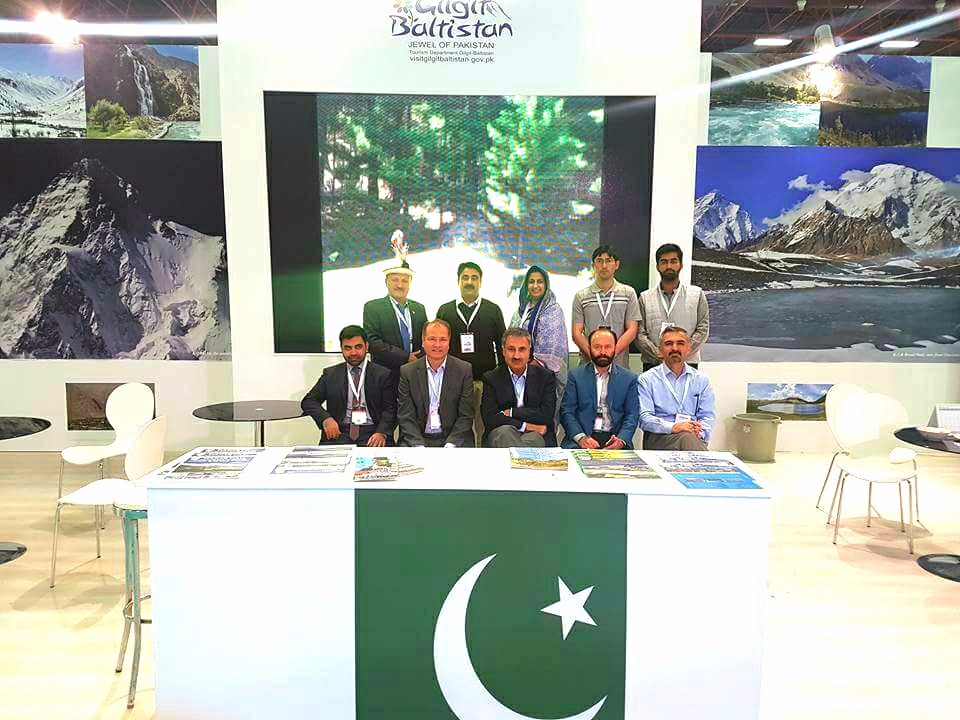 Gilgit: (PR) A high level delegation from Gilgit-Baltistan (GB) comprising of Mr. Kazim Niaz, Chief Secretary, GB, Deputy Speaker GB Mr. Jafarullah Khan and Mr. Waqar Ali Khan, Secretary Tourism GB visited Antalya, Turkey in order to participate in the Hestourex Congress and Exhibition held from 5-8 April 2018. Private Tour operators from GB also participated in the event.
GB Tourism Department established a Pavilion at Hestourex 2018. More than 4000 participants from various countries participated in the event. Visitors greatly appreciated the natural beauty and adventure tourism potential of GB, Pakistan.
On 7 April 2018, Foreign Minister of Turkey H.E. Mevlut Cavusoglu visited the GB Pavilion. The Turkish Foreign Minister announced that he along with the Turkish Economy Minister would visit GB, Pakistan during the current year. He emphasized increasing the mutual touristic exchange and linkages between the two countries.
On the sidelines of the event, the delegation also held meetings with Mr. Munir Karaloglu, Governor of Antalya, Mr. Menderes Mehmet Tevfik Turel, Mayor of Antalya Metropolitan Municipality, Mr. Ercan Mutlu, Deputy President Antalya Chamber of Commerce and Industry (ATSO) and Mr. Firuz Baglikaya, President, Turkish Travel Agencies Association (Tursab). Meetings were focused on exploring the possibilities of Turkish tourists visiting GB, Pakistan. Tursab President and ATSO Deputy President conveyed that they would visit GB during the current year along with a delegation of Tour Operators in order to explore new avenues of cooperation between GB and Turkey.