Speakers thrash Islamabad for proposing reforms that "further disempower Gilgit-Baltistan"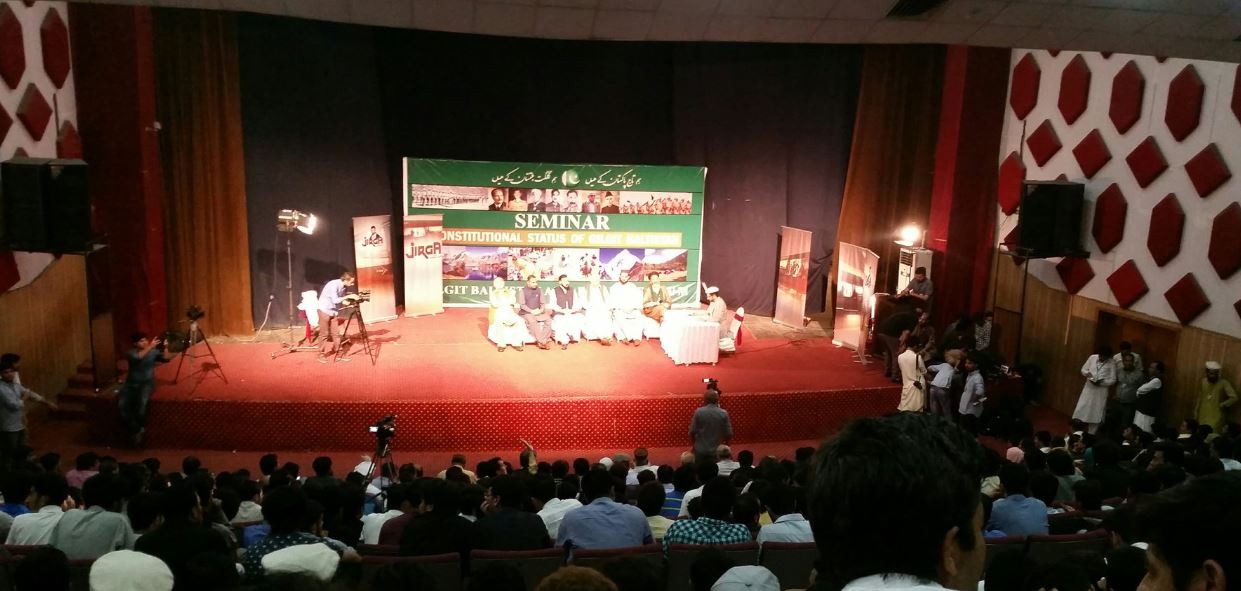 By Nisar Ali 
Islamabad: Keeping the people of Gilgit-Baltistan deprived, or trying to fool them through various packages is not in the interest of Pakistan. The locals, especially the youth, are disenchnated with the narratives of the state, and discontent and discord are simmering in the region. The proposed reforms package adds insult to injury by turning GBLA into a rubber-stamp assembly.
These views were expressed by speakers during a seminar organized by GB Awareness Forum at the Rawalpindi Arts Council to discuss Gilgit-Baltistan's constitutional status.
Prominent participant included former Interim Minister of Information GB Inayat ullah Shumali, Chairman Awami Action Committe Gilgit Molana Sultan Raees, religious scholar Agha Ali Rizvi, senior anchorpersons Saleem Safi and Adil Abbasi, retired IG Afzal Ali Shigri and Rasheed Arshad, Media Coordinator of CM Gilgit-Baltisan.
Speaking at the occasion, Inayat Ullah Shumali said that we are not against Kashmir issue, but we cannot tolerate Kahsmiris opposition of our rights. "Stop fooling us through packages. We have the right to approve or disapprove whatever set-up is being proposed by Islamabad for GB", he said, adding that the region's importance has further increased due to CPEC, and international powers are eyeing the situation in the region.
Retired IG Afzal Ali Shigri said that our ancestors liberated Gilgit-Baltistan from the Dogra occupiers. But, some Kashmiri leaders handed over Gilgit-Baltistan through a fake agreement, Karachi agreement, to which Gilglit-Baltistan was not a party. He added that People of Gilgit-Baltistan love of Pakistan, and they have offered huge sacrifices for Pakistan in different wars against India by defending our country and was Lalik Jan (Nishan-e- Haider) of one of them.
"The rulers don't want to displease India by giving rights to Gilgit-Baltistan", Shigri added. He lamented Islamabad's decision of not honoring the wishes of the people of Gilgit-Balitstan.
Renowned anchorperson Saleem Safi said that he could not understand the logic of Islamabad's decisions and thought-process. Succesionist movements are in vogue across the world, but the people of Gilgit-Baltistan have been leading a peaceful movement aimed at accession with Pakistan, he added.
"Gilgit-Baltistan and FATA are the real benefactors of Pakistan, because these people acceded with Pakistan on their own. Instead of accepting the accession, the government implemented FCR in both regions, and deprived the locals of their fundamental rights."
"Gilgit-Baltistan is gate way of CPEC, but, there is no single project for Gilgit-Baltistan and no representation of GB in GCC and working group of CPEC. The owners of GB are its own people but all decision of GB are being made by Islamabad", he further said, maintaining that if the youth of the region come together and peacefully push forward, the constitutional crisis can soon be over.
Chairmain Awami Action Committee Gilgit, Molana Raees Sultan said that government was forcefully occupying lands in the region, by declaring them "Khalsa Sarkar", or state-owned land. "We will not let the government to occupy our land in the name of state-owned land", he said.
"If we could protect our border, then obviously we can also protect CPEC. The time has come to snatch our right from the government , for which we need to be united", he said.
Religious Scholar Agha Ali Rizvi, media coordinator of CM Gilgit-Baltistan Rashid Arshad also spoke on the occasion.