Protesters in Dorkhan Hunza block KKH after action against 'enroachment'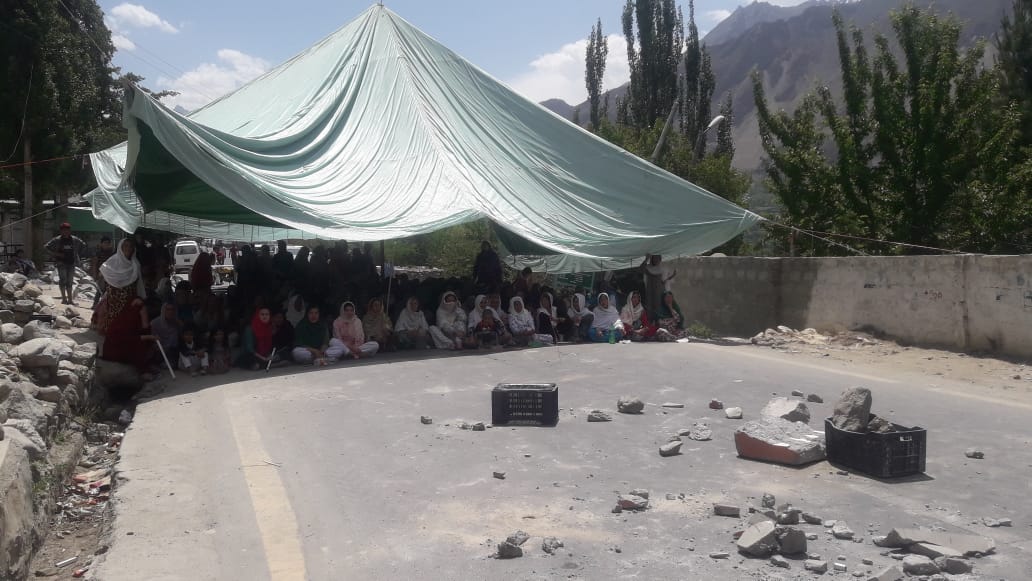 Hunza: Women, children and men blocked the Karakoram Highway in Dorkhan village of Aliabad Tehsil, Hunza, in protest against demolition of parts of a hotel constructed along the road.
The protesters said that the district administration wants to grab land on cheap prices for construction of KIU's Hunza campus. They said that the action against the hotel was unjust.
Meanwhile, the Deputy Commissioner of Hunza has said that the owner of the hotel, Amjad Ayub, had been served notices thrice in the past to stop encroaching on the KKH. He said that despite of the notices, the owner of the hotel used KKH's land, for which 50 percent payment has already been made, which was demolished legally.
He accused Amjad Ayub of enticing the locals against the administration and the government to fulfill his personal business interests. He said that the rich cannot be allowed to encroach on state land, while the buildings of the low-income people are being demolished for encroachment.
The Deputy Commissioner further added that the rumors of grabbing land for KIU's Hunza Campus are false and baseless.
"The federal government is willing to pay 24 lakh per kanal for the KIU campus, which needs up to 50 kanal land. If the people of Dorkhan want to give land they will be compensated by the federal government. If they don't, then the state will get land elsewhere, by paying them 24 lakh rupees per kanal", he added.
The protest demonstration, which continued for 8 hours, was brought to and end on reassurance by MLA Atiqa Ghazanfar, who vowed to take the issue in the legislative assembly.