University of Baltistan explores thousands of years old mysterious humanoid rock objects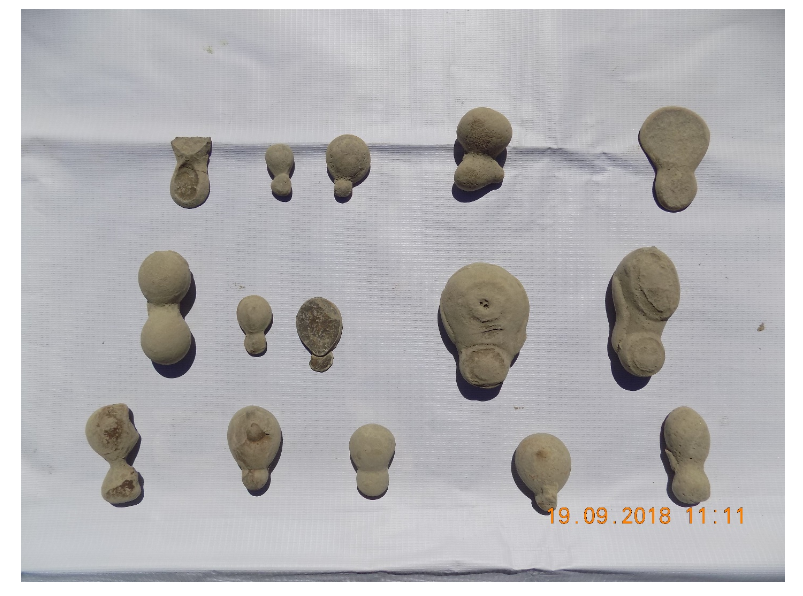 SKARDU: (PR) On reports of fossilized marine organisms 'Mollusk' in the high mountain of Himalaya, a team of Baltistan University visited the site to confirm the reports. This brief pilot project was part of 'Knowledge Creation" program of University of Baltistan.
According to local stories of Baltistan mythical figurative of animals and human were found on the site. The site is known as "rta cho mi cho", horse and human statues or figurative. The local story narrates that an army of enemy were on the way to attack the village. A shepherd saw them and knew their intentions. The shepherd hurried to village and informed them. The poor villagers have no arms to defend, they all went to a famous saint or Sufi and requested him to pray for protection. On the request of the community and perceiving the danger to the peaceful village people, the saint prayed and all the animals and army of the attacker were turned into (mummified) toy like humanoid and animaloid stone rocks.
The village people even now believe that whoever brings those objects home, will suffer for misfortunes or will have headache while carrying them down. The headache will be healed only when these are placed back on the site. That is why, though rarely found, these objects are still found on the site.
According to Dr. Muhammad Naeem Khan Professor of Zoology (Vice Chancellor UOB) these are not mollusk, however these unexplained objects could be lava balls but the consistent human figure does not support this hypothesis. Another possibility could be human made 'terra coto army' found in China, but the site suggests and the professor confirms, "for sure these are not man made, these are arts of the nature". According to some locales these could be toys made by non-human intelligent beings such as jinn or ferries.  These rock objects have been explored from the Himalayan mountains at an altitude of 11,000 feet.  There are two small patches of clay in the steep terrain and the objects are mostly found around there. Carbon dating or any other similar technology can determine the age of fossilization or solidification of these objects, which were surely soft mud type of substances in the initial stage. UOBS intends to send the samples to the Institute of Geology, PU Lahore for further investigation and analysis. We invite experts to comment on this. Below are few photos of the objects as found: