Another American hunted Markhor in Doyan valley of Astore district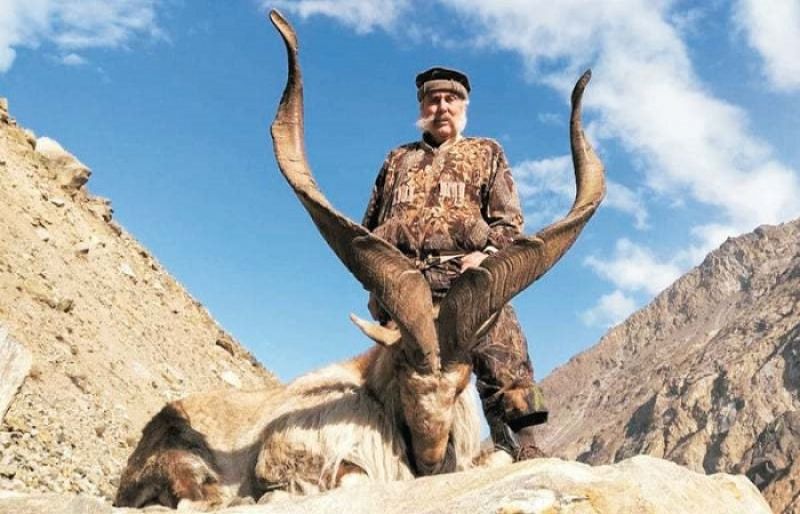 Gilgit (PR): The people of Doyan Valley of Astore district were jubilant on the successful markhor hunt. This was the fourth successful flared-horned markhor trophy hunt of the current hunting season, which took place on March 14, 2019 in Doyan Conservancy/ Community Controlled Hunting Area (CCHA) in Astore district.
People of Doyan have been involved in wildlife conservation efforts since 1996, supported by the GB Parks and Wildlife Department and conservation NGOs. Currently, Wildlife Conservation Society (WCS)-Pakistan is providing technical support to the Wildlife Conservation and Social Development Organization (WCSDO), Doyan for updating their Conservation and Development Plan.
Government of Gilgit-Baltistan allocated quota of one markhor trophy-hunting for Diamer district with the approval of the CITES Management Authority of Pakistan, but it couldn't be utilized for the technical reasons and the same permit was shifted to Doyan Conservancy. The permit was sold during an open auction during October 2018 to the highest bidder for US$90,500, which was later issued to an American hunter Jim Hascup through a local outfitter. Hascup was also the fourth American who successfully hunted a trophy size markhor with horns measuring 42 inches.
As per policy, 20% of the permit fee of US$90,500 (12,579,500 PKR) will be retained by the GB Government, while 80% of it will go to Doyan Community for their wildlife conservation and socio-economic development activities under the community Conservation and Development Plan. This is a big "reward" of our conservation efforts says Advocate Mushtaq Ahmed, Chairman, WCSDO, Doyan.
Earlier in December 2018, the Doyan Community conducted a joint wildlife survey involving Community Wildlife Guards, field staff of GB Parks and Wildlife Department, and WCS-Pakistan in line with the decisions of the District Conservation Committee of Astore district. In total, 97 markhor were sighted during the survey, including 9 trophy-size animals – a significant achievement of the community-based conservation programme. The people of Doyan Conservancy thanked Jim Hascup, the GB Parks & Wildlife Department, the WCS-Pakistan and outfitter Raja Mehboob for providing financial and technical support for managing their wildlife resources, said Mushtaq Ahmed, Chairman of the WCSDO Doyan, Astore.
Later in the afternoon, WCSDO Doyan and GB Parks and Wildlife Department organized a small, but memorable ceremony in the honor of Hascup. The event was attended by Asifullah, Secretary Forest, Wildlife and Environment Department GB, Mehmood Ghaznavi, Conservator Parks & Wildlife Department GB, Khuram Parvaz, Deputy Commissioner/Chairman District Conservation Committee Astore, Dr. Muhammad Anas Iqbal, Assistant Commissioner Astore, Zahidullah, DFO Wildlife Diamer-Astore, WCS Staff, community representatives and the Outfitter.
Keeping the local tradition live, Advocate Mushtaq Ahmed, Chairman, WCSDO Doyan presented traditional overcoats (Chogha) and caps to the hunter and other guests.
Speaking at the occasion, the hunter said, "he is very happy on successful hunt and the way the people of Doyan and Parks and Wildlife Department facilitated the hunt. He appreciated the efforts of the local community for managing their wildlife and other natural resources. This is certainly a model conservation area, said hunter.
Advocate Mushtaq Ahmed, Chairman, WCSDO Doyan thanked the hunter and Parks & Wildlife Department, GB for choosing Doyan Conservancy for this hunt. He also thanked district administration and WCS for supporting the people of Doyan in their conservation efforts over the years.
Secretary Forest, Wildlife and Environment GB, Deputy Commissioner Astore and Conservator Parks & Wildlife GB spoke at the occasion and thanked Jim Hascup for supporting markhor conservation hunt. The revenue from this hunt will help in improving the community governance structures and local economic development in the area, they said.
They also acknowledged the joint efforts of local communities, Parks & Wildlife Department, District Administration and WCS for conservation of flare-horned markhor population in the community-managed Conservancies/CCHAs.
They also said that GB is a unique landscape of the world, which is rich in biodiversity, glaciers, and high mountain peaks. These could provide a range of attractions for both national and international tourists. The income generated through tourism and trophy hunting would help in improving local livelihood. They assured their full support to community organizations for conservation of their wildlife resources.
At the end of the ceremony, Conservator Parks & Wildlife thanked Secretary Forest, Wildlife and Environment GB and Deputy Commissioner Astore for gracing the occasion and appreciated the efforts made by the WCSDO Doyan and his field staff for making the expedition a successful event.
.