5 dead, 17 injured, as wall collapses during Azadi Day event in Gilgit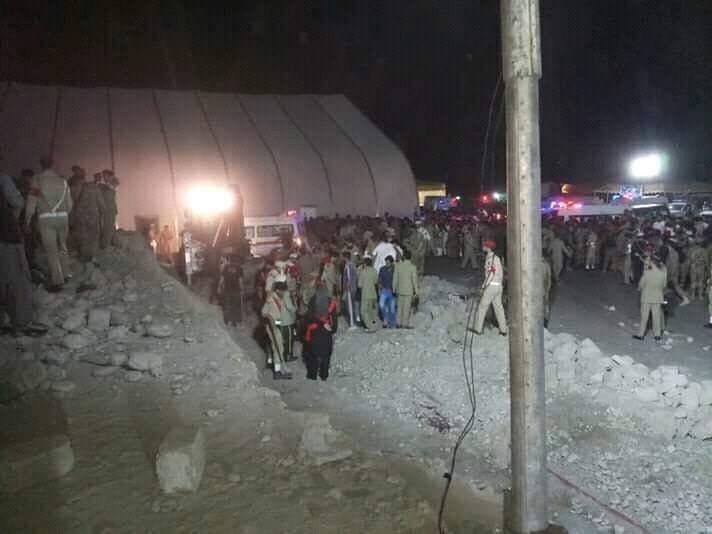 ---
With reporting by Abdul Rahman Bukhari
---
GILGIT: At least 5 people died and 18 were injured when a retaining wall collapsed during an event in Gilgit city.
The retaining wall collapsed during an event organized by Pakistan Army at the Force Command Northern Areas (FCNA) headquarter located in Jutial area of Gilgit, according to an official press release.
The deceased have been identified as Ali (13), son of Ghulam Hussain, Amjad (13), Kareem Ullah (25), and Zakir Hussain (24). One of the deceased was yet to be identified.
Three people were in critical condition, on ventilator, according to an official communique. 
Among the people who sustained 'minor injuries' were, wife of Shoaib Sultan, Zafar Ullah, Sepoy Shoaib, Ghulam Abbas and two women whose names could not be found. Serving and retired soldiers of Pakistan Army are also among the injured.
Thousands of people, including children, women and elderly, were present during the event which has been held consistently during the last five years.
The event concludes every year with fireworks, as the clock strikes 12am. After the horrific accident, the event was stopped. The government of Gilgit-Baltistan has also announced that Independence Day events will be celebrated modestly in view of the tragedy that befell dozens of families. 
Social media was abuzz with rumors and speculations as the news of the disaster spread. 
An emergency was imposed in the hospitals of Gilgit and the injured were shifted to various hospitals for treatment.
Politicians, military officials and bureaucrats were present during the event. They also visited hospitals and oversaw the facilities being provided to them.
According to a press release issued by ISPR, the wall collapsed because a lot of people had climbed it to see the event.
The following people have, reportedly, sustained minor injuries: 
1-Saqlain noor s/o Noor Husain (17)
2-Ali afzal s/o sher afzal omer (31)
3-Liaqat Ali s/o Muhammad Jamal khan (37) 
4-Gulam Abbas s/o Samad Ali CTD police
5-Shehzad s/o sher Azam (16) 
6-Amjad Ali s/o Niyat Ali (21) 
7-Niyat pana s/o shokoor pana (40) 
8-Naeem abbas s/o Jahangeer (22)  
9-Sher Ameen s/o Sher Alam (18)
10-Zafar ullah khan s/o Atta Ullah khan
11-Shuaib s/o Ismail khan (32)
12-Zuhair s/o sher Azam (31) 
13-Ayaan Haider s/o M.Nabi (12)
14-Zar khan s/O Dilawer kha (42)
---