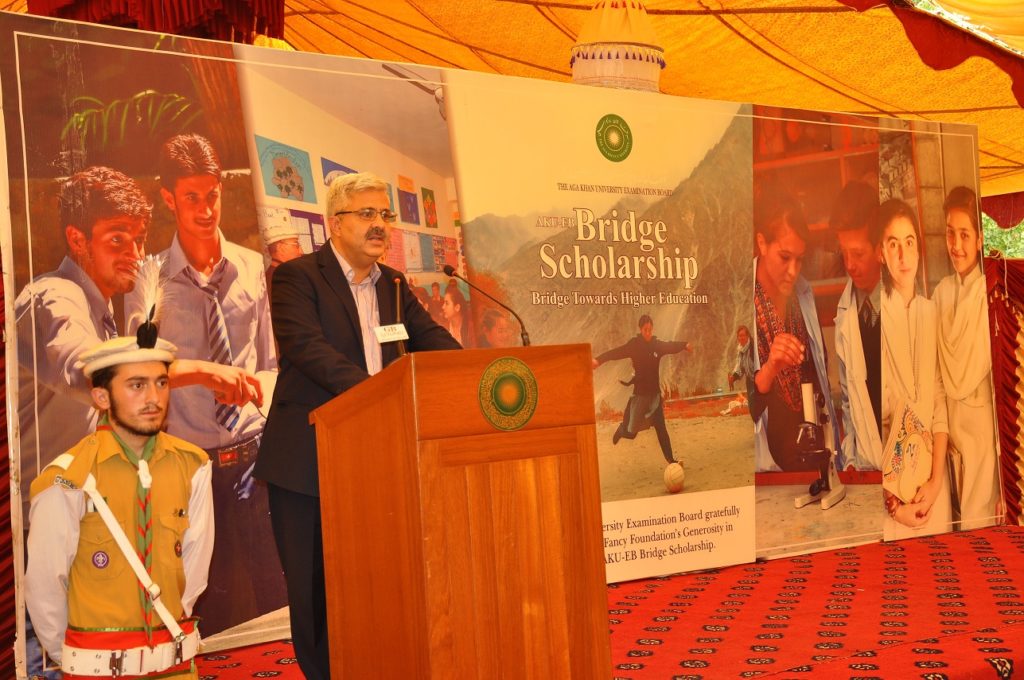 ---
GILGIT: The Aga Khan University Examination Board (AKU-EB) hosted a formal ceremony to launch the AKU-EB Bridge Scholarship at the Professional Development Centre, North (PDCN) in Gilgit, today.
The Fancy Foundation has recently created a new endowment for the purpose of funding AKU-EB Bridge Scholarships to the students of Gilgit Baltistan and Chitral (GBC). The scholarship will provide AKU-EB examination fee for Higher Secondary School Certificate (HSSC).
Dr Anjum Halai, Vice Provost, Asia, and UK and Interim Dean, Faculty of Arts and Sciences, AKU, shared while presenting the welcome address, "AKU-EB's mission to bringing quality assessment and education to underprivileged communities would not be possible without strong partnerships that are built upon a foundation of mutual respect and trust. I am grateful to the Fancy Foundation for expanding the endowment fund to support the efforts of AKU-EB."
Guests at the ceremony included government officials, Fancy Foundation representatives, senior leadership from AKU and AKU-EB, members of Ismaili Regional Councils, management of AKES'P and various school principals and head teachers.
Capt (R) Muhammad Khurram Agha, Chief Secretary, Gilgit Baltistan graced the ceremony with his presence as a Chief guest and lauded the contribution of AKU-EB for providing fair and equal opportunities to students across Pakistan including far-flung areas. "During the last five years, almost 100 students from GBC are in the High Achievers' category and I am highly impressed to see the sheer volume of students in this category at a national level in AKU-EB examinations. We hope that this Bridge scholarship supported by the Fancy Foundation helps the students attain their educational and career goals, and enables them to contribute to society."
This merit-based scholarship will be offered to the students of GBC for AKU-EB HSSC examination. The merit will be based on the AKU-EB Secondary School Certificate (SSC) scores.
Mr Amir S. Fancy, CEO, Fancy Group said, " I am extremely delighted to know that 90% of the students from AKU-EB system in GBC region are getting admissions in universities for higher education. Due to this specific reason our foundation continues to grow its endowment and works closely with AKU-EB for not only recognizing meritorious students, but also for the continuous progression in its impact. This scholarship will greatly benefit AKU-EB's SSC students and will serve as a bridge towards their higher education."
Dr Mola Dad Shafa, Head of PDCN Pakistan also addressed the audience, whereas Dr Shehzad Jeeva, Director, AKU-EB presented the vote of thanks.
The ceremony concluded with a musical performance by a local group.
The scholarships which SSC students will be eligible to apply will begin in the year 2020.