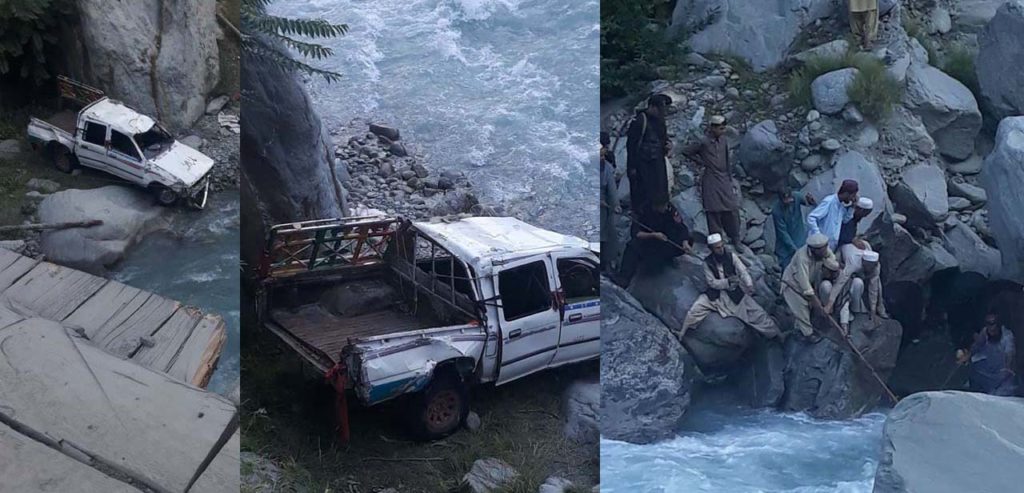 ---
KOHISTAN: Tragedy struck dozens of families in Kandia Tehsil of Upper Kohistan as a vehicle carrying at least 31 people fell in a ravine.
The tragic accident took place in the remote and mountainous Bradigo village of the Khyber-Pakhtunkha Province.
Locals, along with Police officials, were searching for the bodies of the missing people. Eight bodies have been recovered so far, said Minhajuddin, who works for the local Police Control Room. He added that the water current are fast and deep, which is making it difficult to recover the other bodies. The victims and survivors are reportedly from two extended families.
Police officials have said that the overloaded vehicle was carrying 31 people. The accident reportedly happened when the vehicle suddenly started traveling backward while climbing a steep, unpaved, road.
Some passengers reportedly saved their lives by jumping off the vehicle when it started traveling backward.
Local reporters have identified some the passengers traveling in the ill-fated vehicle. Among the deceased, and missing, are 7 women and several children. Four of the missing people have yet to be identified. An officials list of the passengers could not be obtained.
Locals have blamed the accident on a plethora of issues, ranging from unpaved roads to overloading, and reckless driving.