Supreme Appellate Court withdraws judicial powers of Chief Court registrar, lawyers protest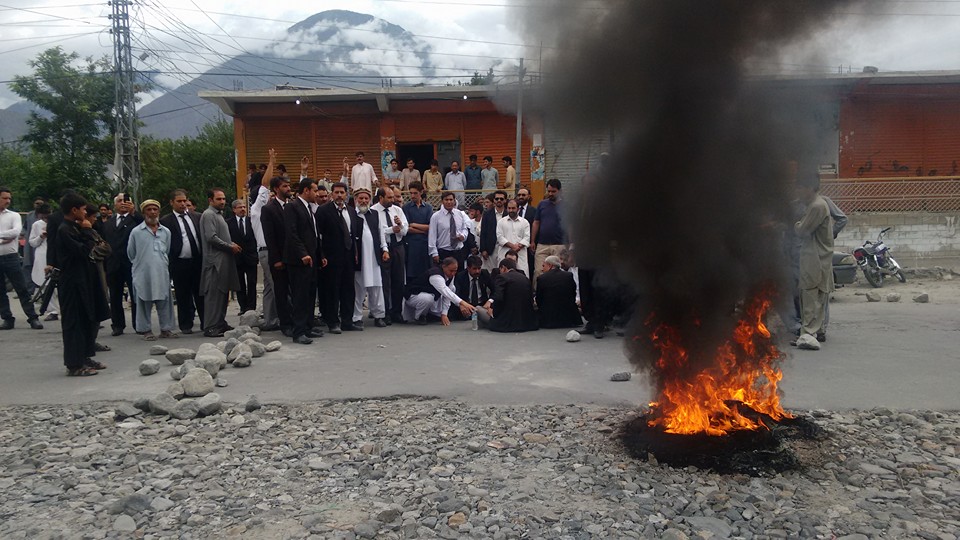 Meraj alam
Gilgit: Supreme Appellate  Court Gilgit-Baltistan suspended  the Administrative and judicial powers of Registrar Chief Court Gilgit Baltistan till further orders while hearing a suo moto notice  on Monday.
The decision did not go very well we with the Lawyers' Associations  of Gilgit Baltistan, which staged a protest demonstration against the decision of Cheif Justice Supreme Appellate Court, Dr. Rana Shamim.
Chief Court Registrar Mumtaz Ahmed has issued an arrest warrant for the Serena Hotel general manager Qayyom after he failed to provide rooms for the Chief Justice Peshawar high court.
Qayyum, the hotel manager, approached the Supreme Appellate Court and submitted an application to seek justice, accusing the registrar of misusing hi powers illegally and arresting him for not giving rooms.
"The rooms had already been reserved by the Ministry of Foreign Affairs for a Chinese delegation on an official visit to the region", the hotel manager said.
On getting the application, the Chief Justice of Supreme Appellate Court turned the application into a suo moto notice, and ordered the registrar to appear in the court. Today, the court ordered withdrawing of the registrar's judicial administrative powers to till further order.
Rejecting the decision, GB Supreme Appellate Bar Association, GB Bar Council, Chief Court Bar Association and district bars announced to lodge their protest across the region and boycott hearings.
President GB High Court Bar Malik Kefayat sait that were contemplating over passing a reference against the chief judge, Justice Dr Rana Shamim, for overstepping his powers in this case.
They accuse Serena Hotel Gilgit General Manager Faisal Qayyum of cooking up a false case against G-B Chief Court Registrar Mumtaz Ahmed.