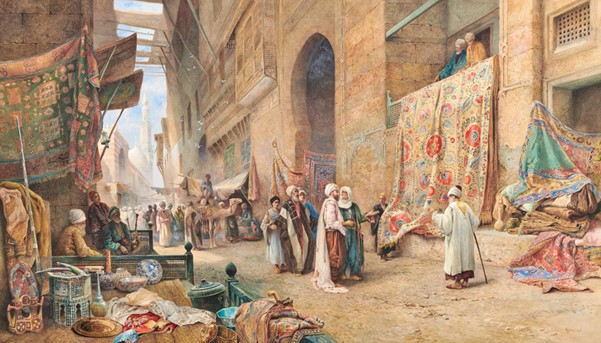 ---
Munaza Kazmi
Peshawar "Oldest Living City" of South Asia dating back 539 BC, keeping alive centuries old rituals of culture, music, cuisine and traditions. One of Peshawar's oldest and magnetizing aspects are the markets crisscrossing its various gates, passing enchanting Mughal Era architectural building, where merchants come from around the continent vending merchandize and leaving behind their stories.
Kabuli Gate is where Khyber Bazaar becomes Qissa Khawani, the old 'Market of Storytellers'. Peshawar's most famous bazaar, that served as an encampment for caravans visiting from Sub-Continent, Afghanistan and Central Asian countries. The market is said to be as old as the city itself, framing several tales of culture, bravery, and love. In the daylight the traders were as busy as bee, exchanging the delicacies they took from different lands however, when the night sets vail on to the sun, they all gather around, sitting beside the fire, tasting tea and sharing the stories of their lands, their friends and the countries they travel around. It's believed from there the market took its name.
The market was of much grandeur that, a visitor can buy an ordinary item of household to exquisite and rarest products, let's say varieties of spices, dry fruits, food items of different regions, sweets, leather commodities, exclusive breeds of birds, perfumes, finest clothes including silk and hand-woven rugs, metals including brass and copper, besides precious stones and jewels etc.
Visiting Qissa Khwani Bazaar the Urdu name of it, yet today is as functional as in the past, it never disappoints its traveler, always welcoming with delicious foods, fascinating sights of historic building, marvelous delicacies and that principle aroma of tea. Beside this, the market gave birth to the stars we love to watch on TV, let's say the legendry Dilip Kumar, Raj Kapoor and family of Shahrukh Khan, their houses are among the fascinating tourist attraction of bazaar.
Food rooted strongly itself in the old alleys, hence when you are done with all the shopping and sight-seeing, food is the priority. Old style cafes, playing the folk music, with the luxury of live cooking, serving appetizing foods like Chappal Kebab cooked into perfection by adding spices into fresh meat and then fried till it becomes golden brown, Mutton Karahi that is mutton cooked with yogurt and black pepper, Kabuli Pulao a rich combination of rice cooked with meat and garnish with carrots and raisin, Fried Fish and Charcoal Chicken covered with delicious flavors, lip smacking Kulfi Falooda that is a lush mix of ice-cream, vermicelli, dry fruits and sauces and their aromatic tea, however there's a specialty of Qissa Khawani you must try locally known as 'Sheen Da Payo", milk green tea.
It's considered that, there's little memory left of the traders and travelers that would gather here to swap tales, however in my opinion it's still meeting place for the travelers and merchants, since they still gather there, on the pretext of selling or buying and in some ways, they still sharing their tales and their journeys. Well, it's true that most of bazaar old teashops have given way to clothes and electrical shops, what used to be the old bird market have transformed into brass and copperware, the historic Mughal architectural buildings and gates are in miserable condition, that needs dire attention, the fashion and culture changed, but still the aroma of tea and spices carry a visitor to that ancient enterprise.