GB setup is temporary, CM has no powers: Imran Khan
Monitoring Desk 
September 1: The Gilgit – Baltistan package was prepared without consultation with the people of the region. All the authorities rest with the federation. The CM is powerless. The package is temporary and PTI will give representation to the region in National Assembly and Senate.
These comments were made by PTI chief, Imran Khan, during a visit of Khaplu today.
He also said that PTI is gaining fast popularity in the region. He urged the public to support PTI for making GB a full-fledged province of Pakistan.
Imran Khan also said that the GB government has failed to control the law and order situation in the region. He said that killing of innocent people is against the teachings of Islam.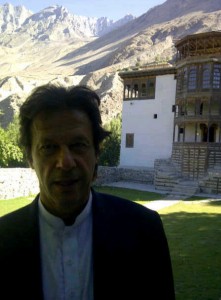 He is accompanied by business-tycoon turned politician, Jahangir Tareen, on a two-day visit of the Baltistan region.
The two leaders of PTI visited Khaplu Fort today, which has recently been renovated by the Aga Khan Culture Service, Pakistan.