Students of Chitral get Iqra Award for obtaining higher positions in SSC exams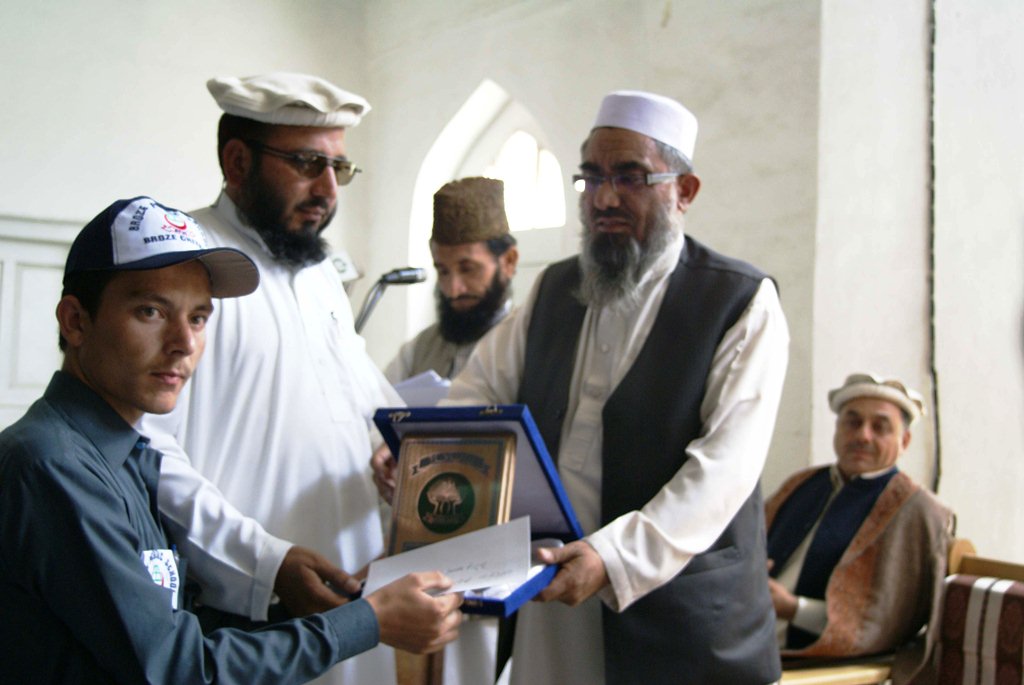 Gul Hammad Farooqi
CHITRAL, September 26: Position holders of the Secondary School Certificate (SSC) examination received  Iqra Awards from former MPA and leader of JUI, Qari Faizullah. The award ceremony was held at Government Centennial Model High School, in the presence of District Coordination Officer Rahmatullah Wazir, who was also the chief guest at the occasion. Maulvi Abdul Rehman, Amir of JUI and former MPA from Chitral, presided over the ceremony.
The first award was given to Tosif Ahamd son of Qazi Sharif Ahmad of Broze Public School who secured 895 marks. He also received 40, 000 rupees in cash prize. Second award was given to Nighat Tariq daughter of Tariq Mahmood of Muslim Model School Chitral who secured 882 marks. She also received 30,000 rupees in cash. The third award, along with 20,000 rupees cash, was given to Ihtishamul Haq son of Asmat Wali of Orien School Booni who obtained 860 marks in the exams.
Among the students of public sector schools, the first award along with 40,000 cash prize, was given to Ayesha Sultana daughter of Sultan Shah a student of Government Girls high school Moldeh who obtained 827 marks, second prize along with 30,000 cash prize was given to Hina Ghani (881 marks), daughter of Ghaniur Rehman of Government girls high school Moldeh. The third award along with 20,000 cash prize was given to Saima Qayum daughter of Qayum Khan of the same school who obtained 811 marks.
Special award was given to Dr. Akbar Shah, surgeon at Khayat Teaching hospital Peshawar who rendering meritorious services to Chitrali patients at KTH Peshawar. Another special award was given to Ataullah, student of Frontier Corps Public School Drosh who stood first in Federal Board of Intermediate and Secondary Education. A special award was also given to Mrs Saliha Bebi Head Mistress of Government girls high school Moldeh because three of the top positions were obtained by her students.
Addressing on the occasion DCO Chitral and EDO Elementary and Secondary Education Chitral Siraj Muhammad Khan stressed on students to read with great zeal and zest and try of their best to show Excellency position in their examinations. EDO expressed his concerned over  that Education department took some stern  steps against defaulter teachers for their reform but they were supporting by some politicians and influential persons of Chitral.   He lamented over cheating ratio and emphasized on student to never try of cheating because there is quantity education but very poor position of quality education in Chitral. He also pointed out that a student of private school stood first but his father is a teacher in government school its mean that his father have no trust on government schools so that why he enrolled his son in a private school. A large number of students, teachesr and  people belonging to all walks of life participated in Qari Faizullah Award cum Iqra award distribution ceremony.