Shigar: Landslide leads to damming of Braldu River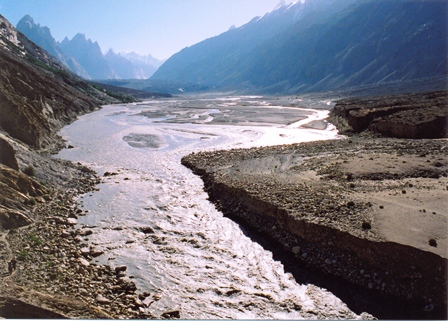 Our Correspondent
Islamabad: The Braldu River in Shigar Valley of District Skardu, Gilgit-Baltistan, has reportedly stopped flowing after getting filled with debris of what is initially being described as a huge landslide, composed of rocks and soil. The landslide has reportedly occurred near a village called "Hutu".
Local sources from Baltistan have informed the media that tonnes of debris has been deposited in the river gorge, blocking flow of the water.
One independent source informed that the water level in the dammed river has risen by several feet during the last 24 hours. This could not be confirmed through official sources.
Local people said that the dammed river has turned into a lake which can cause threats for the communities settled in the region.
Having its origin in the Baltoro Glacier, the 76 kilometer long Braldu River is one of the many tributaries of the Indus River.
It joins with another river to form the Shigar River, which later becomes a part of the Indus River, near Skardu.
————————————
If you have any information or photograph related to this incident send it to us on pamir.times@gmail.com or fill the form below:
[contact-form][contact-field label='Your Name ' type='name' required='1'/][contact-field label='Your Email' type='email' required='1'/][contact-field label='Your Cell Number ' type='text'/][contact-field label='Information' type='textarea' required='1'/][/contact-form]