KKH and "border management between GB and Xinjiang" discussed by Zadari and Li Keqiang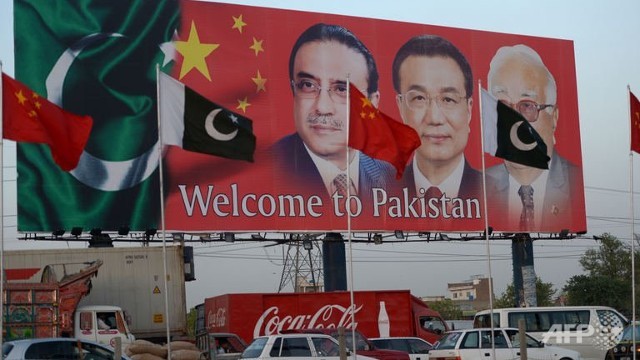 Gilgit: President Asif Ali Zardari and Chinese Executive Vice Premier Li Keqiang on Wednesday agreed to further bolster the existing close and multi-faceted strategic ties between the two countries through enhanced cooperation in diverse fields, with particular focus on trade, energy, communication, infrastructure development and agriculture sectors.
President Zardari and China's Executive Vice Premier, who met here on the eve of first China-Eurasia Expo, besides discussing in detail the whole range of bilateral relations as well as ways and means to further strengthen these ties, also exchanged views on regional and international issues of mutual interest.
The President was assisted by Foreign Minister Hina Rabbani Khar, Commerce Minister Makhdoom Amin Fahim, Defence Minister Ch Ahmed Mukhtar, Petroleum and Natural Resources Minister Dr. Asim Hussain, Chief Minister of Gilgit-Baltistan Syed Mehdi Shah, Prime Minister of Azad Jammu and Kashmir Chaudhary Abdul Majeed, Chairman of Board of Investment Salim H.Mandviwala, President of Federation of Pakistan Chambers of Commerce and Industry (FPCCI) Senator Haji Ghulam Ali, Pakistan's Ambassador to China Masood Khan and Spokesperson Farhatullah Babar.
Babar told mediapersons that the Chinese Executive Vice Premier appreciated President Zardari's gesture of bringing with him the Chief Minister of Gilgit Baltistan and welcomed him to the meeting.
President Zardari described China as Pakistan's closest friend and a strategic partner as high level of trust existed between the leadership and people of the two countries. He said that the political parties, state institutions and people of Pakistan considered China as the lifeline for their country. The President recalled the visit of Premier Wen Jiabao to Pakistan in December 2010 as a heart warming event and expressed satisfaction over the progress in Pakistan-China  political, defence, security and economic co-operation, with determination to take it to 'new heights'.
The President appreciated Ambassador Masood Khan for his role in further strengthening the Pak-China ties and described him as Pakistan's most important ambassador in the world.President Zardari said that Pakistan greatly valued China's economic support and assistance and wanted to enhance economic and trade links, with an ultimate goal of closer economic integration.He stressed the need for closer Pak-China collaboration in agriculture, irrigation, energy, infrastructure development and railways etc.
The President sought Chinese investment in Pakistan's water and energy related mega projects, including Thar coal gasification for electricity generation and hydro-power projects. He expressed his confidence that the Pak-China Joint Energy Working Group, the first meeting of which was held recently, would find new ways to make and implement long-term plans for conventional, renewable and nuclear energy cooperation between the two countries. The President in this respect also proposed setting up of an umbrella corporation under energy cooperation mechanism called 'Pakistan China Power Corporation'. The corporation would include specialists and entities from all fields – conventional and alternate.
The President noted with satisfaction the increase in bilateral trade volume by $ 2 billion to $ 8.7 billion, which depicted the overall growth of 28 per cent and added that since the current trade did not commensurate with the close and strategic ties there was a need to take steps to meet the target of $ 15 billion in the next three to four years and achieve even more. President Zardari during the meeting also reiterated Pakistan's full support to China's core issues, including its position on Taiwan and Tibet. Pakistan is firmly opposed to any attempts to undermine China's sovereignty and territorial integrity, he added.
The President expressed his confidence that the government and the patriotic people of China would succeed in frustrating designs of the evil forces of terrorism, extremism and any attempt to undermine territorial integrity. He said that Pakistan was committed to fighting terrorism in all its forms and manifestations.The President expressed his satisfaction over the growing Pak-China strategic and defence cooperation. He also appreciated the Chinese help in launching PAK-SAT 1R satellite on Aug 12 this year and termed it another milestone in Pak-China relations.
He said that the two sides needed to expand existing maritime cooperation into a more comprehensive strategic maritime partnership. Pakistan would welcome Chinese investment in trans-regional cooperation projects, involving economic project cooperation between Pakistan, Afghanistan and China, he added. Welcoming the opening of ICBC's branches in Pakistan, the President said, "we would welcome further Chinese investment in our banking sector."  He hoped that the People's Bank of China would speed up conclusion of a currency swap agreement. He also lauded China for its substantial, timely and targeted assistance for the recovery of flood victims as well as help and support to overcome Attaabad lake problem in Gilgit-Baltistan.
The President said since it was important to re-establish the strategic road link of Karakoram Highway (KKH), the Government of Pakistan had accepted the proposal of China Reconstruction Bridge Corporation (CRBC) for the construction of 13 kms of new route and rehabilitation of 22 kilometers of existing sections of KKH by lowering water level of the lake. The widening and up-gradation of Karakoram Highway would further facilitate and enhance the trade and people-to-people contacts, he added. The President also sought Chinese investment in the proposed new city of Zulfikarabad in Sindh.
Apprising the Chinese Vice Premier about Pakistan's plan to float infrastructure bonds backed by the natural resources in oil and gas, he invited the Chinese investment in the Infrastructure Bonds. The President also apprised the Chinese Executive Vice Premier about the challenges facing Pakistan and appreciated China's support for Pakistan's stability and social development in the challenging times. He also appreciated China's principled stand in support of Pakistan in the aftermath of killing of Osama Bin Laden and for standing by it at every critical juncture. Pakistan will continue to seek guidance and assistance in the common pursuit of rooting out terrorism from the region, he added.
The President thanked China for its continued support for Pakistan's stability and sovereignty as well as for standing by it at every international forum. About Pak-India relations, the President said Pakistan wisheed to have good neighbourly relations with India and was committed to a constructive, sustained and result-oriented engagement.He said Pakistan and India had taken some positive steps in this respect and hoped that the peace process would gain momentum in the days to come.Pakistan would like to continue to work with India to resolve all outstanding issues peacefully and in a just manner, he added.
Discussing the situation in Afghanistan, President Zardari said that stability and peace in Afghanistan was critical for peace in the region. He added that Pakistan was supportive of an Afghan-led and Afghan-owned process of reconciliation. The President also welcomed the Chinese development projects in Afghanistan and said that the economic development of Afghanistan was vital for its political stability and peace. About militancy, the President said," although militants were created by the international community as a war weapon to fight a rival ideology, it is now our responsibility to deal with them." "It is a long-drawn battle and we are fully capable and poised to fight this menace", he said and highlighted the importance of international unity as well as support to Pakistan.
Courtesy: Pakistan Times