Chinese relief items reach Gojal Valley, Hunza
Vehicles carrying relief items entering Khunzhrav National Park. Photo: Adil Shah
Ehtisham Ali
Gilgit, August 18: The Chinese government has sent around one thousand tones of edible and non-edible relief items for the disaster affected people of Gojal Valley, Upper Hunza. This is the third time that edible relief items have been sent by the Chinese government for the disaster affected region. Twenty six (26) out of the 52 containers have reportedly reached Sost, while the remaining items will reach within a couple of days.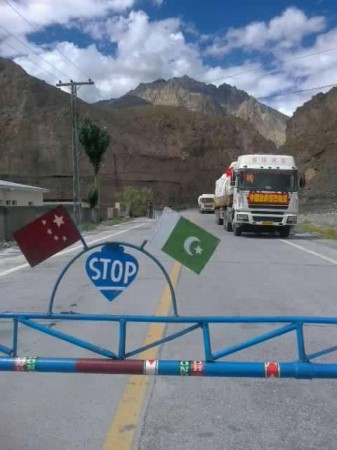 The communities in upper Hunza have been suffering due to the continued blockade of the Hunza River and destruction of the Karakoram Highway, since January 4, 2010.
The relief items include edible oil, flour, rice, sugar and other items, to be consumed during the winters, when access through the dammed Hunza River becomes difficult with temperature plunging down to the sub-zero level. Coal, to be used as fuel during the winters, is also part of the relief items.
Several hundreds of families had been facing difficulties due to shrinking of financial capacity, as a result of the closure of potato export to other parts of the country, due to the road blockade.
The government of Gilgit-Baltistan and the federal government's cabinet division had been making efforts to realize the local people's demand of bringing relief items to meet local needs.
Earlier this year, a huge consignment of relief items had reportedly been held by Chinese Customs authorities after huge caches of contraband items were found in several trucks. The issue lingered on for several month after the foiled smuggling bid.
The relief items, received in 20 containers, reached the Sost Dry Port today. The items were received among others by the Deputy Commissioner of Hunza-Nagar, President of the Ismaili Council, ex MDC Raja Shahbaz Khan, Immigration and Customs officials. Speaking at the occasion the local leader thanked the government and people of China for the generosity and care.
Local people have demanded that the distribution of relief items should take place under the leadership of credible community organizations, under strict government supervision, to ensure transparency. In the past, the relief items have been misused by political and administrative figures and vested interests for their own political and personal gains.