National Action Plan: 10 people arrested from Gilgit-Baltistan in 21 raids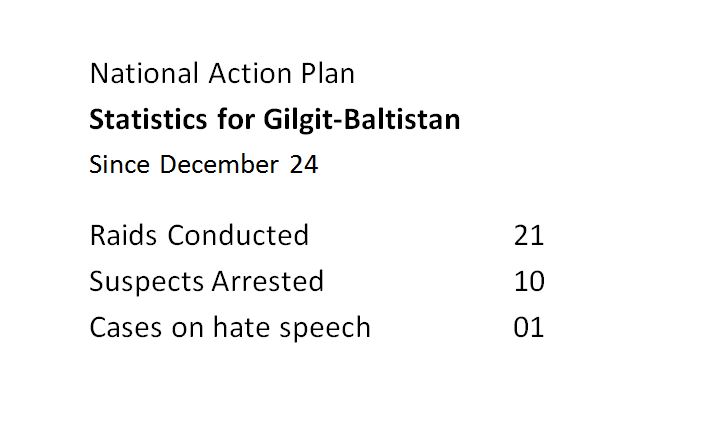 ISLAMABAD – The law enforcement agencies have arrested around 10,616 people on different charges during 14,886 search operations conducted in all parts of Pakistan, since the implementation of the National Action Plan started to eliminate terrorism and extremism from Pakistan.
According to a report submitted to Prime Minister Nawaz Sharif on the implementation of National Action Plan (NAP) since December 24 last, the security agencies reported to have conducted 9413 operations in Punjab, 1577 in Sindh, 2724 in Khyber Pakhtunkhwa, 39 in Balochistan, 336 in Islamabad, 720 in Jammu Kashmir, 21 in Gilgit-Baltiststan and 56 in Federally Administered Tribal Areas (FATA).
Among those arrested included 1934 from Punjab, 1533 from Sindh, 6038 from Khyber Pakhtunkhwa, 460 from Balochistan, 505 from Islamabad Capital Territory (ICT), seven from Jammu Kashmir, 10 from Gilgit-Baltiststan and 129 from FATA. The security agencies arrested 2,035 people, including 1806 in Punjab, 169 in Khyber Pakhtunkhwa, one in Balochistan and 59 in Islamabad Capital Territory (ICT) over misuse of loud speaker. In total 1,256 equipments were confiscated for being misused.
In total, 540 cases have been registered for spreading hate speech and material including 455 in Punjab, 34 in Khyber Pakhtunkhwa, four in Balochistan, 46 in Jammu Kashmir and one in Gilgit-Baltiststan. The law enforcement agencies also arrested 405 people and sealed 41 shops on same charges. According to the data, around 3,416 Afghan Refugees have been deported including 2,844 from Khyber Pakhtunkhwa, 195 from Balochistan, one in Islamabad and 376 from FATA.
The Federal Investigation Agency has registered 18 cases for money transfer through Hawala Hundi, arrested 24 people and recovered Rs 71.5 million. Three cases have also been registered for suspicious transactions and as many people were also arrested. The agency also registered five money laundering cases and registered as many people on the charges. In total, 161 actionable calls were received on anti-terror helpline 1717 including 105 in Punjab, 18 each in Sindh and Khyber Pakhtunkhwa, five in Balochistan and 15 in ICT. Around 1250 intelligence-based operations were also conducted throughout Pakistan.