Mountain farmers in Pakistan's north fret over farm losses from erratic winter snowfall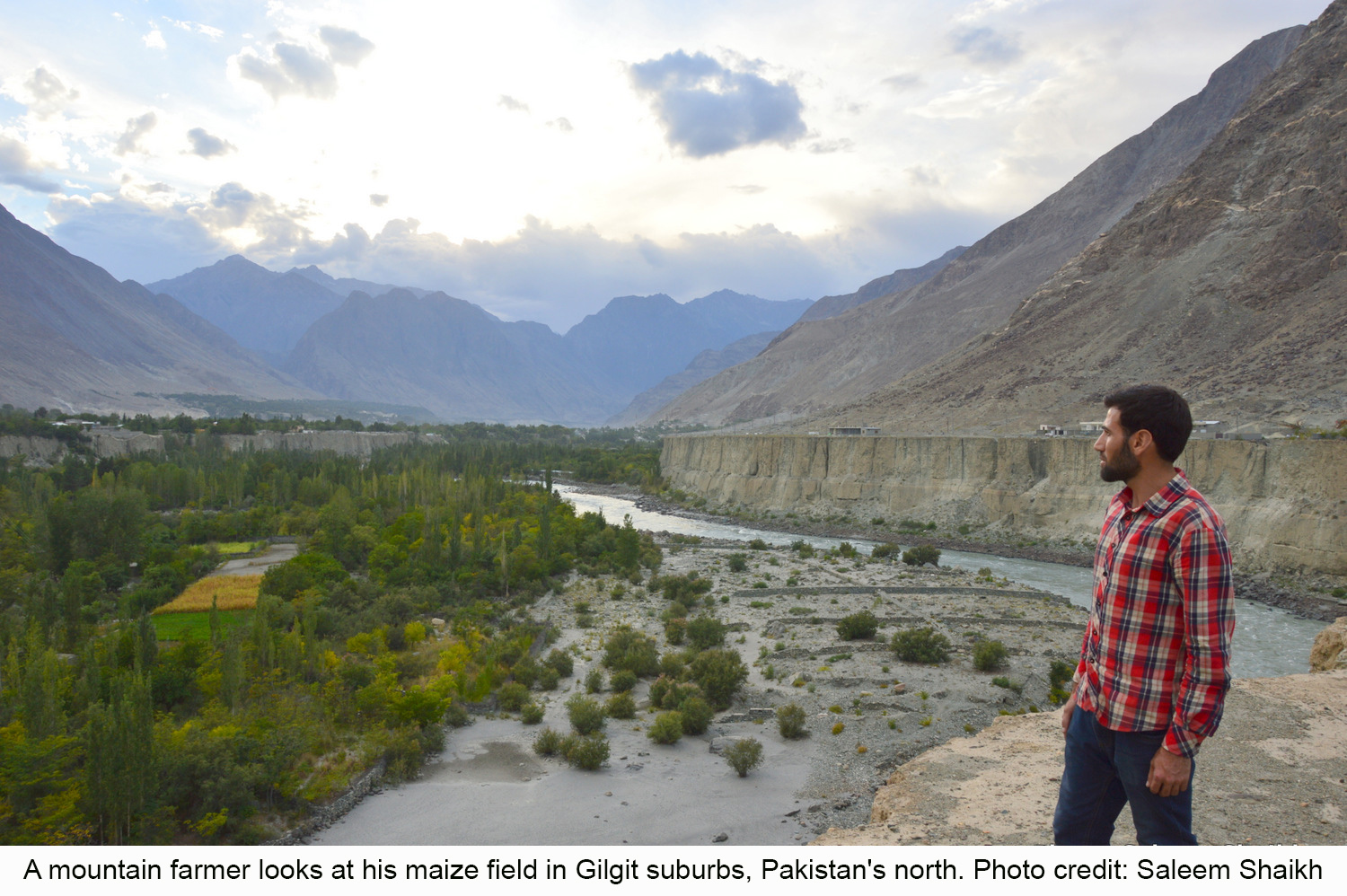 By Saleem Shaikh and Sughra Tunio 
HUNZA, Gilgit Baltistan – Weird and unexpected onset of heavy snowfall more than forty days earlier than usual this year – first time in the last more than a decade – in Pakistan's north landed mountain farmers into a baffling shock.
Farmers say while they were preparing for harvesting potato and maize crops and some of them in the middle of harvest in other mountain valleys, sudden and unexpected onset of snowfall dampened their hopes for robust potato and maize harvest this year.
"With three to four inches of snowfall in potato and maize fields, it is very much difficult to harvest the crops, mainly potato, which remains buried deep under the snow," said Karim Hussain, a farmer in Karimabad village of Hunza valley.
Potato and maize crops are sown in May-June and harvesting of these crops kicks off between mid-September to mid-October in northern parts of the country.
Story of apple and walnut farmer in Gilgit-Baltistan region's scenic Hunza valley is equally sordid, who grieve over irrecoverable economic losses from unexpected heavy snowfall, which proved like a bolt from the blue.
Pointing towards snowfall under, which now lies harvested red apples and walnut, farmer Ali Hunzai, 41, told Pamir Times, "I was finished with the harvest of apple and walnut and had arranged local labourers to pack them in wooden boxes for transporting them to Islamabad. But heavy snowfall, which came nearly 40 days earlier than usual – first time in 13 to 15 years  – dashed my joys over good harvest."
"I was expecting income of nearly 13,00,000 (US$ 13,000) this year from my harvest. But I don't think I would be able to get the income as nearly 90 percent of my harvest remains now under the four-feet snowfall," he added, counting his miseries in a chocking voice.
Story of gloom was self-expressive on his wrinkled face.
How can one plan to continue with crop farming with becoming so fickle and unpredictable, which has made the timing of snowfall and rainfall as well as onset of summer and winter seasons so unreliable and erratic over last 10  to 12 years, Ali Hunzai says, standing underneath the popular snow-covered overlooking mountain peak of Rakaposhi in Nagar valley.
Farmers in different valleys in the country's north say that what they have observed since year 2000 is that onset of winter was shifting forward seven to 10 days every year.
"Given the shifting weather patterns, we expected arrival of winter season this year after second or third week of November. But snowfall in mid-October this year – a trend was routine 10 to 15 years ago – has shockingly taken them back," Shehla Hayat, a female mountain farmer told Pamir Times.
"We were adapting to the gradual forward shift in winter weather pattern and planting and harvesting our crops accordingly. But this year sudden somersault in onset of snowfall season make the weather pattern more unreliable and unpredictable," said Ahmed Nawaz, a potato farmer in Karimabad.
Such a strange behavior in weather pattern has come startling for weather scientists too.
Weather scientists at Pakistan Meteorological Department (PMD) say that 90 percent of the areas in Pakistan in October month remain dry and northern areas get first winter snowfall in December or January.  But in October's more than two-feet snowfall and 166 millimeter rain in just 24 hours on October 21 is extremely shocking for them.
"This has never ever happened in Pakistan's recorded meteorological history," said Dr. Ghulam Rasul, director-general at PMD in Islamabad.
He says that this year it has been surprisingly observed this year that temperatures declined steadily in October instead of November.
"Though we issued snowfall forecast for scattered areas of the country's north in October, our forecast was of moderate snowfall. However, it came really bolt from the blue for us to record that the snowfall was so heavy that it even buried fields and the roads in a matter of 15 hours on Oct 21, leaving thousands of tourists and truckloads of harvested summer crops stranded for few days," Rasul said.
He told Pamir Times that snowfall of such a heavy magnitude in third week of October was 'really unexpected".
While summer was slowly fizzling out, two-month Autumn season was being expected, said Dr. Qamar-uz-Zaman, a weather scientist, associated with the UN-World Meteorological Organiation,
"But abrupt snowfall, which changed the weather from warm to cold without letting autumn season of around four to six weeks to set in from mid-October is an event, will be more frequent due to climate change," he cautioned.
Weather scientists clearly attribute erratic weather patterns to effects of global warming.
"These are the signs of climate change. The current month will be relatively wet," said Dr Mohammad Hanif, spokesman PMD. "But we cannot say that the conditions were moving back to the 1990s as nobody can predict rain in November next year due to climate change."
Spelling out causes of the abrupt shift in weather in Pakistan's north, Hanif told Pamir Times that winds coming from Europe via Central Asia have produced the recent wave of cold and wet conditions, while the satellite imagery at the PMD website showed in October last week that a strong cloud formation is descending directly from Siberia further dropping mercury in China, Northern Afghanistan, other regional countries including Pakistan.
This story was done under the ICIMOD Media Fellowship Pakistan 2015.