Anti-Tax Movement's strike brings life to a halt in Gilgit-Baltistan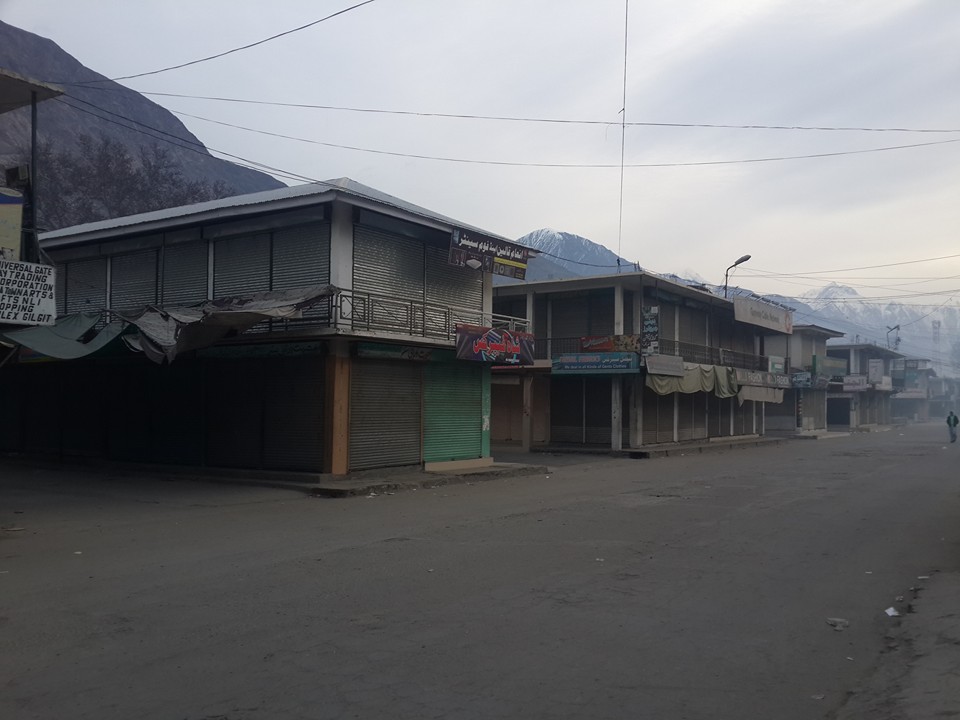 Meraj Alam
Gilgit: The streets of Gilgit-Baltistan (G-B) wore a deserted look as markets were shut down and roads were empty due to a strike called by the Anti Tax movement Gilgit-Baltistan (ATMGB) against imposition of 0.3 percent withholding tax on Thursday.
The ATMGB had appealed to residents of G-B to observe a complete wheel-jam and shutter-down strike. All trades, political organizations supported the strike, except PMLN, which is the ruling party in the region.
Hundreds of Cabal operators across Gilgit-Baltistan (G-B) also closed the broadcasting to support the wheel jam and shatter down strike for 24 hours.
ATM  is an alliance of various groups and parties formed to pressure the government into accepting their demand of exempting taxes that was imposed on month ago.
"This has been the most successful strike in the history of G-B, as all ten districts observed it, and for that we are thankful to the people as we have made a unified demand to the government", said Firdous Ahmad, president of the TM, while talking to Pamir Times.
Instead of exempting the GB people from taxes, the federal government has levied more financial burden on the region through the GB council, he added.
''If the federal government does not review this decision, then the People of Gilgit Baltistan will hold protest demonstrations all over the country'', he further said.
 Muhammad Ali Anjum Resident of Baltistan region told Pamir Times that all markets in the region were shut and vehicles were off the road in as part of a 'shutter down' and 'wheel jam' strike.
Amjad Advocate, Provincial President of Pakistan Peoples Party (PPP), and a former member of the GB Council, told the Pamir Times that imposition of income tax on GB people without giving them representation in the parliament is an unlawful and unconstitutional act.
He said that according to law the federal government returns 54 percent amount of the collection tax to the relevant province under the national province commission (NFC) award, but the GB was not being provided the due share, because of lack of representation in the NFC.
Leader of opposition in GB assembly Haji Shah Baig said that based on the principle of no taxation without representation, imposition of taxes on GB people without fulfilling their demand would be strongly opposed.
Earlier, the Gilgit Baltistan council had decided imposition of 0.3 percent withholding tax on local companies and government contractors association.
Meanwhile passengers, patients and local citizens suffered due to wheel jam and shutter down in the region.