Gilgit: Settlements along riverbeds threatened due to rising water level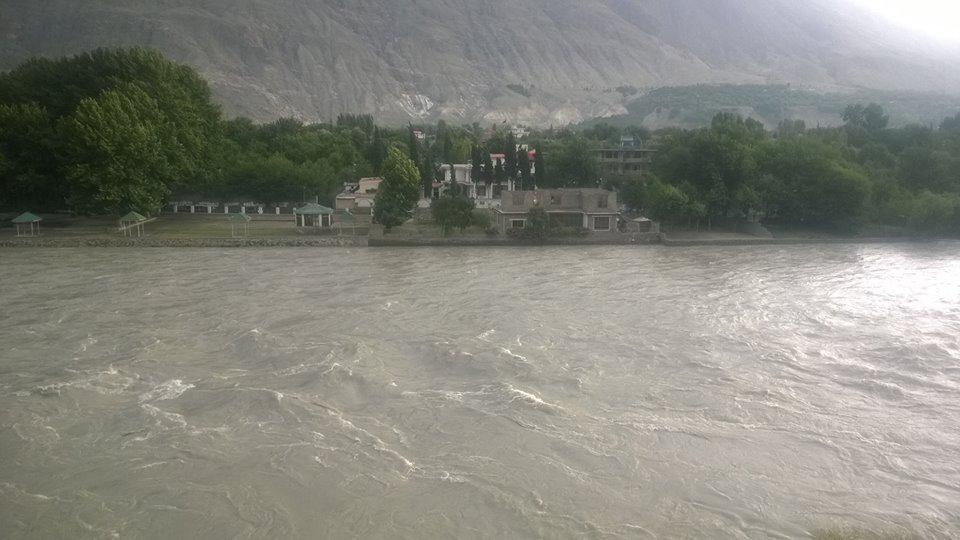 Meraj Alam
Gilgit: Houses located along rivers and glacial streams in Gilgit-Baltistan are under threat as the volume of water increases with the rise in temperature. Several houses were flooded in the Domial ,Chamogarh, Sakarkoi ,Thopchar and Baseen of Gilgit city on Thursday and Friday.
"We stay on duty and monitoring the situation since the last 24 hours" said Rizawan Alam, a resident of Sakarkoi, an area in Gilgit city alongside the river.
"Water has entered our residential area. If the condition remains the same water of river will also damage our house. We are planning to shift to a relative's house", he added.
Qasim Shah a resident of Domial area said that the people of the area are under threat as the volume of river sudden increase. "Water has entered at least ten houses. At least forty houses will have to be vacated in the Chamogarh area", he said.
Meanwhile, official sources have said that district administration of Gilgit has been directed to vacate the houses located along the riverbed.
According to meteorological department the flooding has been caused by Glacial Lake Outburst Flood (GLOF).
 Climate expert, Director Environment Protection Agency Gilgit-Baltistan,  Shehzad Shigri said that two months ago there was an unusual weather season in the region.
"Out of the season snowfall doesn't add to the volume of the glaciers. Instead the snow melts fast and create lakes, which burst and create floods, threatening human settlments", he said