Teachers in Chitral being harassed for failing to arrange security equipment for schools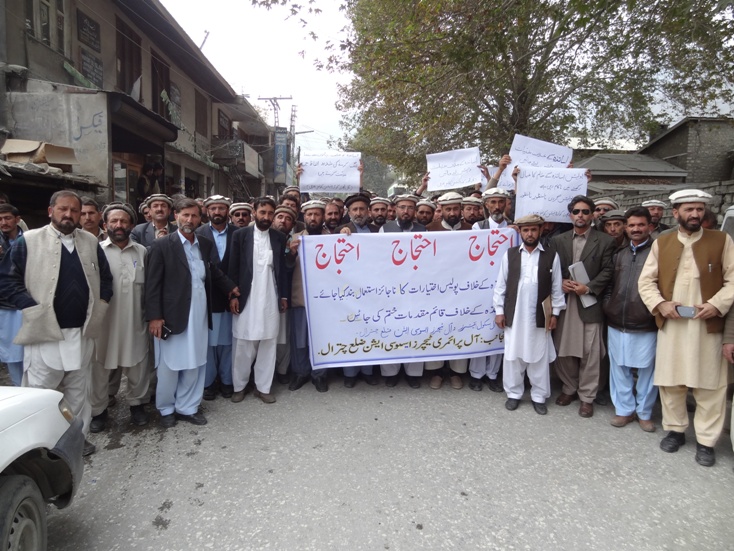 Chitral: Enraged Government schools teachers in Chitral district of KP staged a protest demonstration today. The protesting teachers said that the provincial government expects them to arrange security equipment, including CCTV cameras, special mobile phones and armed guards for the protection of the schools, without allocating a single penny for such items in the budget. The protesting teachers said that those who fail to arrange the security measures are being charged by the police and dragged through courts, which affects their morale and efficiency at work.
"If the government wants to register cases, then the cases should be registered against the Secretary Education and the Minister for Education and other top officials. Why are the poor teachers being victimized", said a teacher during the protest.
Those who spoke at the occasion included Ziauddin, Qari Yusuf and Jameel Uddin, among others.
It is pertinent to note that the KP government had enacted a law to ensure school safety in the wake of the murder in Army Public School, Peshawar, in which terrorists had massacred around 151 people, most of them child.
The protesting teachers said that resources for arranging security have not been properly delivered to the school management for purchase of the security equipment or hiring of armed guards. They demanded of the IGP to restrain police from arresting teachers and dragging them through courts.
The protesting teachers said that they will start "Jail Bharo Tehreek", Fill the Jails Movement, from December if the registration of cases against teachers was not stopped.