Mountaineering for a Cause: Mountaineers from Shimshal valley resolve to save Glaciers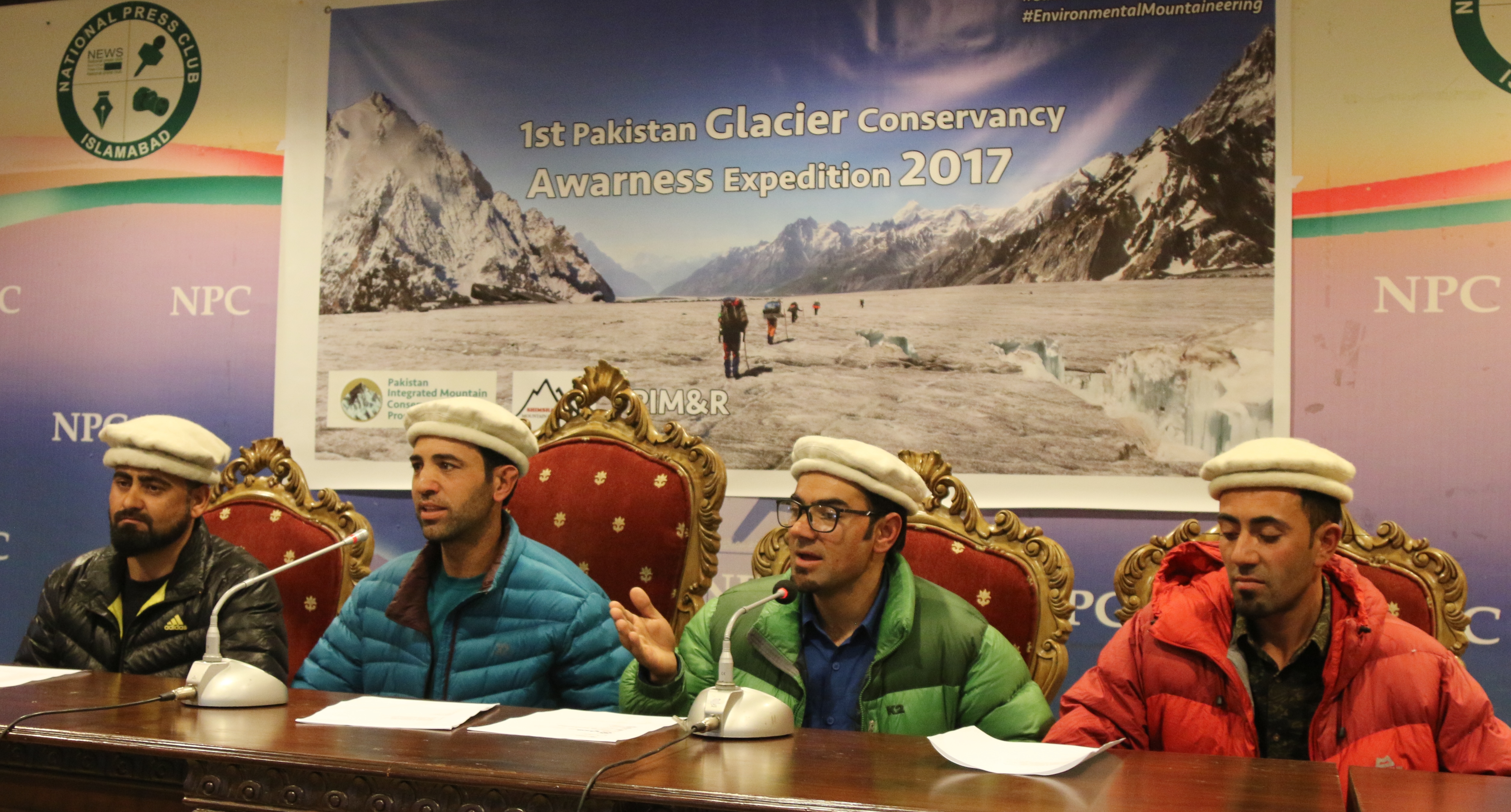 Islamabad (PR): A group of 10 mountaineers and researcher from Shimshal embarked on a mission to save the glaciers from depleting. This was announced during a press conference at National Press Club Islamabad. Pakistan Integrated Mountain Conservancy Program (PIMCP), an initiative by young researchers and mountaineers, has planned to organize the 1st Winter Glacier Conservancy Awareness Expedition 2017. The expedition is aimed at monitoring and collecting data to analyze the change in the glaciers due to global warming. It will also work for raising awareness about the rapid and alarming rate of glaciers depletion due to human made Global Warming and inspiring people at every level around the world in general and Pakistan in particular to stand up and take some substantial steps in addressing the issues of global warming and climate change.
The data and information will be shared with various University students and research organization in Pakistan who are conducting research work on glaciers", said Samiullah, one of the researchers in the PIMCP while talking to the media. The 20-day expedition will kick start from Shimshal village in Hunza Gojal on 1st January 2017 while a group of 10 member professional mountaineers and researchers will be crossing six longest glaciers of the world located in Gilgit-Baltistan region of Pakistan-Braldu, Lupke La, Snow Lake, Biafo, Khoordhopin and Yazghail Glacier. The expedition will end in Skardu on January 20, 2017.  This expedition is the first in the series of many other activities that will be taken under the Pakistan Integrated Mountain Conservancy Program to raise awareness and conduct research studies on glaciers and on many other environmental issues of the mountain and the emerging risks it is facing due to increasing global warming.
While sharing his views, Mr Abdul Joshi, mountaineer and expedition team leader says, "This is for the first time that we are using mountaineering for a cause by introducing echo-mountaineering and that is to use mountaineering for the conservancy of our glaciers and other mountain biodiversity". The historic expedition comprises of professional mountaineers and activists which include Abdul Joshi, Niamat Karim, Daulat Muhammed, Bulbul Karim, Eid Muhammed, Ali Rehmat, Mansoor Karim, Syed Zaman, Jalaluddin and Hidayat Shah, all hailing from Shimshal valley
Pakistan is home to world's largest ice glaciers out of the polar region. Spread over an area of 16,933 square kilometer, there are over 5,000 glaciers in the Gilgit-Baltistan and Chitral regions of Pakistan which includes the famous Siachin Glacier, Biafo Glacier, Khoordhopin Glacier, Batura Glacier, Braldu Glacier, Snow Lake and many more. These glaciers are the major source of water feeding the major rivers in Pakistan. The glaciers are also considered as the Water Reservoir or Water Bank of the country. In the wake of the alarming increase in the Global warming, these glaciers are facing a serious threat, resulting an existential threat not just to the 0.2 million people of Gilgit-Baltistan but also to the 200 million people of Pakistan.  Glacier depletion especially the recent melting are causing flash floods in many areas of Pakistan resulting human displacement and loss of lives. In future this can affect agriculture, drinking water supplies, hydroelectric power, and ecological habitats. This can also affect Pakistan's economy that depends mainly on water from glacier melt.