Islamabad: KKH expansion affectees protest, demand compensation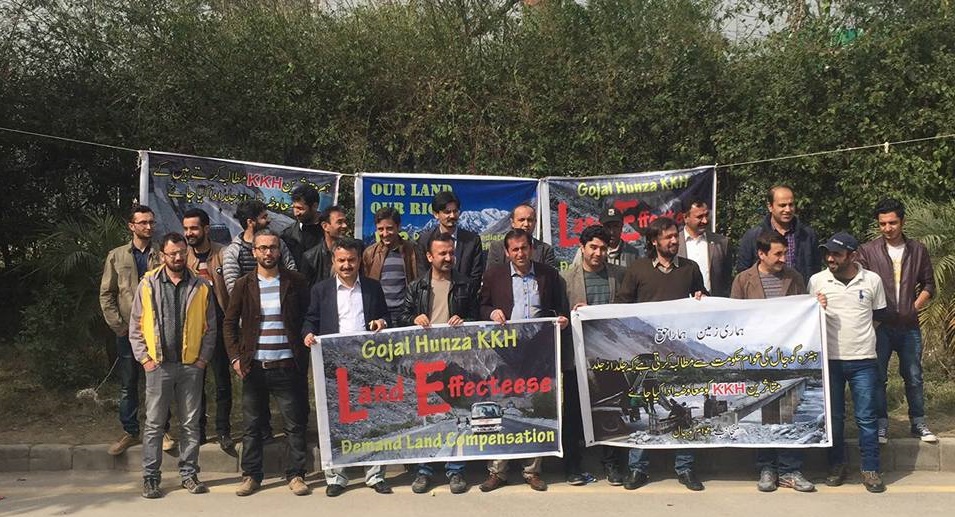 Islamabad: A group of people belonging to Gojal Valley, Hunza, staged a protest demonstration in front of the Islamabad Press Club on Thursday. They were demanding payments for land lost during the expansion of the Karakoram Highway. The protesters said that successive administrations have failed to pay the affected farmers whose scarce land was used for the highway connecting Pakistan and China.
Speaking at the occasion, leaders of the protesters blamed the National Highways Authority (NHA) officials of obstructing the payment process. They said that not a single penny has been paid to any one in the Gojal Valley, while adjacent valleys and valleys have received partial payments.
Those who spoke at the occasion included Aziz Ahmad, Shakeel Ahmad, Daulat Karim and Bakhtullah, among others.
Also read:
The Awami Workers Party (AWP) Punjab President Dr Asim Sajjad Akhtar, Information secretary Farman Ali and other party activists also joined the protest to express solidarity with the affected people. Speaking to media, he said that like the people of GB there are numerous people in other provinces who have been subjected to injustices and exploitation by the ruling elite of Pakistan and bureaucracy.
He stressed the need for unified struggle by the working class of GB and all nationalities to get rid of this outdated exploitative system and the ruling class. He assured the affected people from Gojal that the party will support their demand for immediate payment of compensation.
Similar demands have also been made by people in Diamer, Gilgit, Nagar and other parts of the Hunza Districts, where hundreds of families remain uncompensated for almost a decade.
A group of activists from various parts of Gilgit-Baltistan also met the Chief Minister of Gilgit-Baltistan a couple of days back to demand speeding up of the payment process.
Speaking to Pamir Times on phone, a member of the committee said that the NHA's new regional head is delaying the payment process for unclear reasons despite of assurances offered by top government officials, including GB Governor.
It is pertinent to note that estimations of the losses have already been made and submitted to the NHA for releasing payments. However, the payments are not being made, causing frustration in the region.