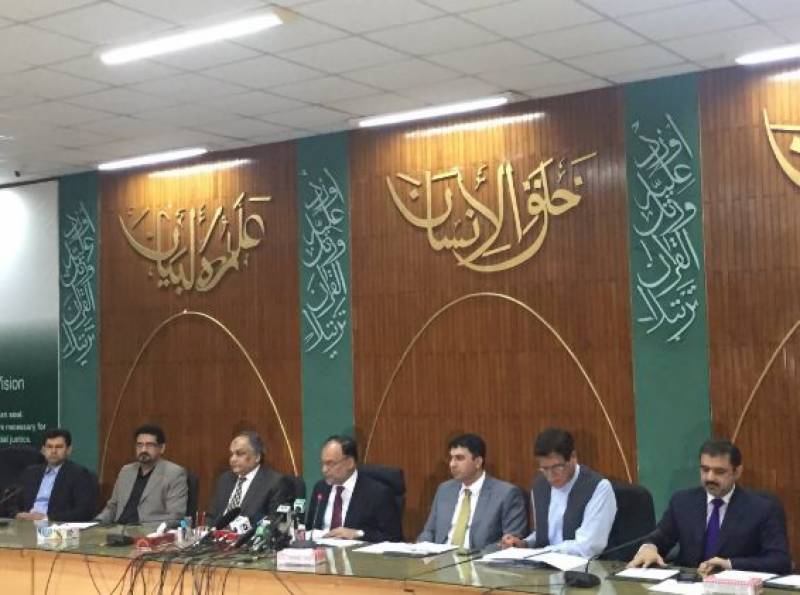 Islamabad: Planning Minister Ahsan Iqbal says economic indicators of the country are highly positive and growth of GDP in the next fiscal year is estimated at six percent.
Briefing the news persons in Islamabad on Friday, he said agriculture sector has performed significantly during the current financial year with a 3.5 percent growth and it is expected that in the next year its performance will be better.
The Minister said agriculture sector performed due to incentives given by the Prime Minister to farmers including credit facilities, subsidy on fertilizers and electricity bills.
He said that manufacturing sector also contributed satisfactorily and after the provision of uninterrupted gas and electricity has triggered the growth of industrial sector.
The Minister said that development budget has been enhanced three times and over two trillion rupees are being allocated for the next year.
He said that 404 billion rupees are being allocated for infrastructure projects which will spent on roads and railways network.
He said that development budget for FATA has been enhanced to 24 point five billion rupees while budget of AJK also being doubled from ten to twenty billion rupees.
Similarly, budget of Gilgit Baltistan has also been enhanced from nine billion to fifteen billion rupees.
The Minister further said that budget for Higher Education Commission will be 35 billion rupees to promote Education sector.
He said that GDP growth during the current financial year remained at 5.3 percent.
He said that social sector development budget has also been increased from 90 to 135 billion rupees while special measures are being proposed for the growth of IT sector.
He further said 180 billion rupees have been proposed for the projects of China-Pakistan Economic Corridor.
Ahsan Iqbal said 15.8 percent growth has been witnessed in investment which is higher than previous years.
He said that Prime Minister has requested all four provinces to plan out funding for AJK, Gilgit Baltistan and Fata which are also part of Federation.
The Minister said hefty amount is being provided for the drastic changes in Radio Pakistan and PTV.
The Minister said development projects worth seventeen billion rupees will be completed in Gwadar. Courtesy: Radio Pakistan